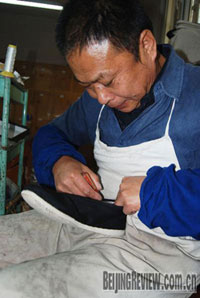 WORKING HARD: Xu Erqi works with care at Neiliansheng, the oldest existing handmade cloth shoes shop in China (CHEN RAN)
Xu Erqi, 53, is the most senior shoemaker in Neiliansheng, the oldest existing handmade cloth shoes shop in China. He is also honored as "the king of shoemakers" because of his excellence. From Monday to Friday, Xu comes to the workplace--a two-story factory located in western Beijing--at 8:30 a.m. and goes back home at 4:30 p.m.; his work is to stitch soles and vamp them together.
"I've been working here for 36 years. My job sounds easy, but actually it is not; it is one of more than 90 traditional shoe-making procedures, which require patience as well as skill," Xu told Beijing Review. "Any minor errors should be avoided as much as possible."
Normal schooling, from elementary school to university, was completely stopped nationally during the Cultural Revolution year (1966-76). Xu entered the factory after finishing junior middle school in 1972.
"You could imagine how hard the stitch work was for me, a teenage boy who was less than 17 years old at the time," he noted.
Xu started to learn the techniques from the very beginning and practiced hard; he even developed his own way to make better use of the shoe-making tools besides strictly following instructions.
Xu, together with other 80 peers, became a registered employee of Neiliansheng after two years of apprenticeship.
Rebounce
Most industries were benefiting from the reform and opening up policy in the early 1980s. But for handmade cloth shoes shops, like Neiliansheng, it was another story--the whole industry was suffering from the leather shoes boom.
"They use machines and the daily production is much higher than our output. Senior shoemakers like me could make only two pairs a day. Their advantage was overwhelming," said Xu.
Xu felt frustrated, as the future of the handmade cloth shoes market seemed bleak. Worse still, he became worried and uncertain about his future as most of his colleagues skipped to the leather shoe-making industry.
Love was the only reason for Xu's stay. "I love my job and I had a girlfriend at that time, a colleague of mine who worked for the quality supervision department," Xu smiled. They tied the knot in 1985.
It was not until the mid-1990s that the industry was revived. Xu served as a senior shoemaker, who also took in charge of training rookies; his salary increased to more than 700 yuan ($90) per month from 17.08 yuan as an apprentice in the 1970s.
"To be honest, several cloth shoes factories contacted me and offered better conditions, but I refused," said Xu.
Currently, only Xu and his two peers who came to Neiliansheng in 1972 are still working for the factory.
"I was too lazy to change jobs," Xu giggled.
New challenges
In 2001, Neiliansheng--established in 1853 and famous for making shoes for officials--changed to a limited company, where more than 100 employees became the shareholders.
"Changes were felt everywhere. For example, my salary increased to more than 2,000 yuan per month; a bonus was available by the end of every year; electronic fans in the workplace were replaced by air conditioners; our suggestions or opinions could reach our boss easily," said Xu.
How to balance the traditional techniques as well as market demand is another challenge faced by most century-old shops; Neiliansheng is no exception.
"According to local customs, the cloth for the soles in the past all came from old clothes or trousers. But now, we use new cloth to make the soles softer and more comfortable," Xu continues.
New designers were introduced to the factory in recent years to better meet the market requirements, said Xu. Leather-sole shoes and cloth-sole sandals are among the new products.
"The design looks fantastic but there's a problem in making this procedure. For example, the vamp for sandals is less than normal shoes, which require new techniques in stitching. We tried hard to make it possible, and it paid off," he said, proudly.
Xu will retire within two years, but does not worry about the loss of the techniques. "I have trained several apprentices who are the age of my son. It is fortunate that they study hard, like their job and cherish the opportunity. All they need is time," he stated.
"I haven't thought carefully about life after retirement. I just want to enjoy it," he added.