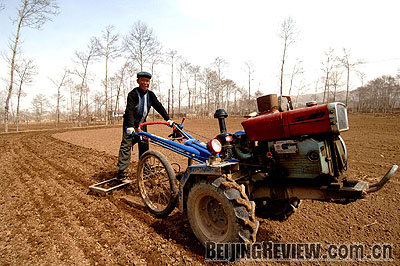 A DAY'S WORK: In this photo, a farmer plows his field in Xujiazhai Village in northwest China's Qinghai Province. The household contract responsibility system has helped to advance the growth of the country's agricultural production
Thirty years ago, a reform in the countryside was the sounding bell for the start of China's reform and opening up. Three decades later, the relationship among the state, rural collectives and farmers has been readjusted. The interests of farmers have been markedly expanded and are better protected, and the mode of development for agriculture and rural areas has been completely changed. Most importantly, the number of rural residents who live in absolute poverty has been reduced to 15 million from 250 million. Chinese farmers have made the leap from not having enough food and clothing to leading relatively comfortable lives.
A new system
Prior to 1978, farmland was managed and operated by rural collectives, and after a certain portion of the harvest was paid to the state, the remainder was equally distributed to the farmers. Such a pattern restrained the enthusiasm of farmers, and agricultural productivity was very low. In many rural areas, there was sometimes no grain left to distribute after the harvest, and the locals had to borrow grain from the government. Such a situation once occurred in the village of Xiaogang in central China's Anhui Province. So the village with a population of 120 in 18 households decided to contract the land out to each household to meet their production quotas as a remedy.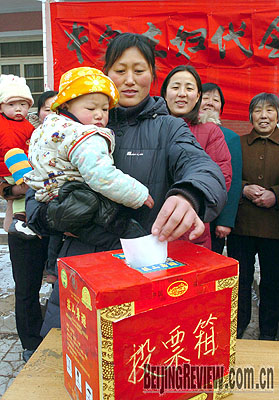 CASTING A VOTE: A resident of Niujiazhuang Village in north China's Hebei Province submits her ballot to elect members of the local women's congress. Such voting at the grass-roots level is an example of villagers's autonomy and self-governance
One night in December 1978, the 18 households signed a "secret agreement," contracting the land, cattle and farm tools with individual households. In 1979, the first year after the village