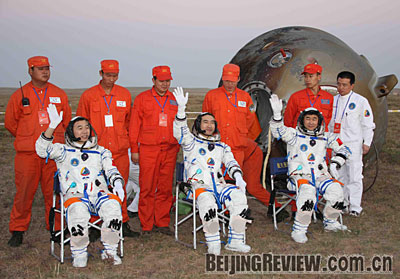 BACK ON EARTH: Three Chinese astronauts, Jing Haipeng, Zhai Zhigang and Liu Boming, (from left to right) land safely on September 28, after successfully completing the country's first-ever space walk mission (WANG JIANMIN)
The dream of voyaging into space is as glamorous as it is ambitious. It has captured the hearts and minds of the human race for centuries. China has been pursuing this dream for years, but the country's most recent foray into the unknown has attracted more world attention than usual. The reason lies in the fact that with the launch of Shenzhou 7, China's first ever space walk, became a reality.
About seven hours after liftoff at 9:10 p.m. on September 25, Shenzhou 7 moved into the Earth's orbit 343-km out. With one astronaut remaining in the capsule, the other two entered the orbital module to conduct extravehicular activities (EVA), and then released a micro satellite. The three-man crew on board returned to the Earth late on September 28 with a successful landing in northern Inner Mongolia after a 68-hour space flight.
"The success of the Shenzhou 7 space mission will highly improve China's national strength of science and technology, making it only the third country after Russia and United States capable of putting a man into space," said Cui Jijun, commander-in-chief of the mission's ground operation team. "And [these historical footprints left by Chinese astronaut] mark a milestone in China's space history," he said from the Jiuquan Satellite Launch Center in northwest China's Gansu Province.
After sending one person into space in 2003 and completing a two-man mission in 2005, China's latest mission shows the steady progress of China's aerospace industry. Being the most technically sophisticated space project, manned space flight includes seven major systems, namely, astronaut, space science experiments, spacecraft, launching vehicle, launch site, remote monitor & control, and landing site. This complex process utilizes the services of more than 100,000 researchers and technicians from 110 institutes and academies, as well as 3,000 units across the country involved.
Major milestone
It has been more than 40 years since astronaut Alexei Leonov of the former Soviet Union stepped out of the spacecraft in 1965. Over the past decades, world space programs have seen more than 400 space walks carried out.
During the Shenzhou 7 mission, astronauts are given a high intensity workload, including assembling, testing, dressing and undressing of EVA spacesuits in orbit. One Chinese astronaut wore domestically-made "Feitian" (literally means flying in the sky) space suits, worth more than 30 million yuan ($4.89 million) to conduct EVA and recover the experimental devices of solid lubricants, while the other stayed in the orbital module to monitor and assist in case of an emergency wearing an imported Russian Orlan-M Haiying space suit.
In addition, it is the first time a Shenzhou spacecraft has been fully loaded with a three-man crew. Behind this historic moment, people often forget the decades of effort made by other Chinese astronauts in the past. China's Astronaut Center (ACC) was established in 2005, where the initially selected 14 "taikonauts" receive intensive body training and performed countless drills on mission skills and responses to emergency situations. Among the 58 training activities falling into eight categories, each takes the human body to extremes. For instance, in the high-gravity endurance-training program, astronauts are subjected to a force of gravity eight times their own weight, while trying to keep their minds clear to complete other tasks. The training program can always physically burn out these strong men.
"It is a symbolic step in aerospace development to manage EVA techniques that are crucial for rendezvous and docking with space laboratories, as well as orbit maneuver and maintenance of the space station," said Huang Weifen, deputy director of China's Astronaut Research and Training Center. "Also, a space walk will enable astronauts to perform scientific experiments outside the capsule. The right space suit is vital to keeping astronauts alive against the harsh surrounding environment of zero-gravity, dramatic temperature changes, ultraviolet radiation and scraps of space trash," added Huang.
According to Huang, they developed the ground-based gravity simulator in a large water pool, and used a mock capsule for tests on space suits. "Meanwhile, our center is in charge of astronaut recruitment, medical supplies, development of both intravehicular and extravehicular space suits, as well as on-board supplies of drinking water, food, and equipments for emergency rescue," she said.