While the eyes of the world will be transfixed on the most famous 16-day summer sports gala in the universe starting from the grand opening ceremony on August 8, a side event of the Olympic Games scheduled for August 10 also deserves attention.
The Truce Foundation of the USA (TFUSA) is working together with the U.S. Olympic Committee on a ceremony to honor and award some of those who have contributed to the promotion of peace, friendship and cultural communications.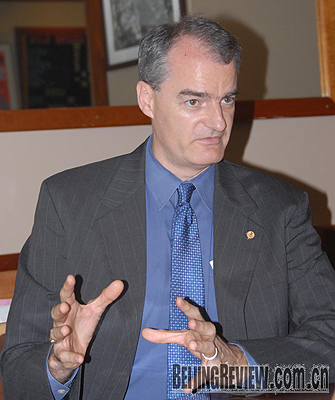 "Our keen interest is to make sure that [the Olympic Games] are more than a commercial event and that people pay attention to more than just the medals," said Hugh T. Dugan, founder of TFUSA, during an interview with Beijing Review, adding the group hopes watchers "understand that it's a movement, maybe the largest single movement in the world, that demands a harmonious mankind."
According to Dugan, the ceremony hosted on the third day following the opening of the Olympics will have around 125 participants, including senior leadership of the International Olympic Committee. It will award Juan Antonio Samaranch, Honorary President of the International Olympic Committee (IOC), for his central role in reviving the Olympic Truce for the modern era and Mr. Irwin Belk, American sports philanthropist and humanitarian, for his generosity to the Olympic movement.
The foundation will also honor The Culture and Civilization of China publication project, a cooperative program between China International Publishing Group (CIPG) and the Yale University Press initiated in 1990 which will result in 75 volumes on the cultural riches of Chinese civilization. This seemingly odd choice for a peace-through-sports award was picked for the natural link between the ideals of the Olympic Truce and the promotion of international understanding through the publication project, said Huang Youyi, Vice President of CIPG.
By awarding this project, "we want to promote the scholarship and cultural side of the Olympic Games which sometimes is overlooked, but actually very important, said Dugan.