Figures of the Village
22 square meters-per-capita living space
2.2 meters-the longest bed, which can be further extended using an inbuilt stool
100-foreign staff working
2,300-chefs from around China
8 days-how long the menus last without repeating any dish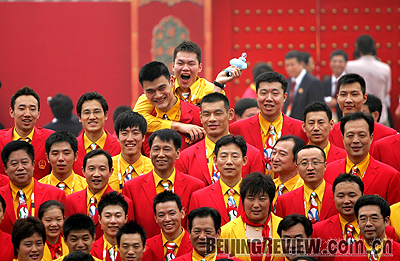 China's largest ever Olympic national delegation became the first to officially check into the Olympic Village for the Beijing Games on July 27, the day it was opened officially to athletes.
Less than 5 km northwest of the Games' centerpiece venue, the National Stadium, where the opening and closing ceremonies will take place, the sprawling complex of 66 hectares will provide accommodation for 16,000 athletes, coaches and their entourages.
As the first national delegation to officially enter the compound, the Chinese delegation held a ceremony to raise its national flag in the village. A handful of sports stars, including the Athens Olympics 110-meter hurdles champion Liu Xiang and NBA star Yao Ming, were among about 100 athletes who were present at the ceremony. The Chinese delegation to the Games has 1,099 members, including 639 athletes.
The Cuban and Polish Olympic delegations checked into the Olympic Village on the same day.
Deng Yaping, a former Olympic table tennis champion as well as the spokeswoman and deputy director of BOCOG Olympic Village Department, was quoted on July 25 saying that 46 countries had had some representation in the village since its preliminary opening on July 20.
Athletes from several countries residing in the village before its official opening have praised its facilities. Deng said the Olympic Village had met the complicated technical standards and specifications for facilities set by the International Olympic Committee (IOC), such as the size of rooms and the number of athletes in one apartment. Following the IOC regulations, every apartment will house eight athletes. Each has been equipped with broadband Internet access, a telephone, cable TV, closed-circuit TV, an infrared anti-theft alarm and a fingerprint lock.
Deng said all the beds in the Olympic Village can be extended to 2.2 meters in length, and to ensure a good sleep for giant athletes such as the 2.26-meter basketball center Yao, an inbuilt stool at the end of the bed can be pulled out to further extend it.