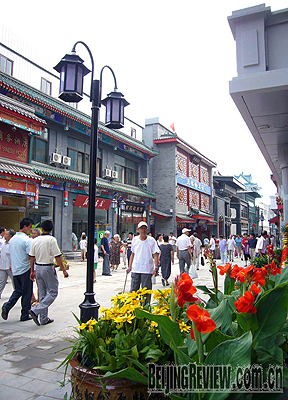 After a half-century absence the diangdiang tramcar has reappeared on Qianmen Street, Beijing's oldest and most famous commercial street. It's a sign of the times-Beijing going modern with an old twist-that reflects the country's rapid modernization combined with a rising desire to preserve its culture.
Located in Chongwen District, Qianmen is close to Tiananmen Square and the site of many well-known shops. It was first prosperous in the Yuan Dynasty (1279-1368) and was regarded as a symbol of Beijing's wealth.
"Qianmen concentrates the city's culture and has been the site of many big events in Beijing's history," said Zhao Shu, Vice Chairman of the Beijing Cultural Association.
Qianmen Street was closed in May 2007 for its largest renovation project in 600 years. The renovation work was intended to smarten up the street while retaining its old Beijing feel.
Early transportation
The return of diangdiang tramcar is just one part of the restoration project. In the old days the tramcar driver had to stamp on the footboard to make the bell hanging in front of the car ring as he drove down the narrow street. People named the tramcar diangdiang after the sound of the bell.
Diangdiang was the earliest modern transportation in Beijing. It was officially put into use in Qianmen on December 17, 1924 and was cancelled in 1958.