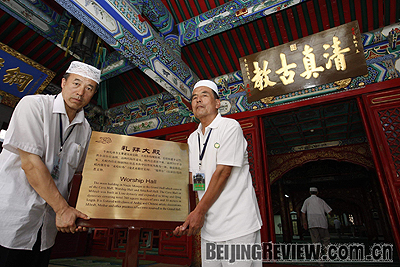 In the past, when foreigners wrote memoirs about their experiences in China, they tended to use confusing public signs and humorously translated menus to prove the vast cultural difference.
Some extreme examples would have been scary if they weren't so entertaining, such as the dish called "husband and wife lung slice," offered by many restaurants. It was in fact a bad translation of beef and ox tripe in chili sauce. Another popular dish, mapo tofu, was sometimes translated as "bean curd made by pock-marked woman."
Still more problematic for foreign visitors was the lack of English signs. Without reading Mandarin, finding their way around the city and understanding the menus in most restaurants were tough tasks. Even the help of friendly locals was difficult to understand because of the language barrier.
The municipal government launched the Beijing Speaks Foreign Languages Program (BSFLP) in 2002, which has been dedicated to raising the English level of Beijing residents and improving the translation of public signs and menus. The official website of the program's office says that it will take advantage of the increasing enthusiasm of Beijing residents for studying and speaking foreign languages before the Olympics to raise the level of English, which is necessary for Beijing to become a truly metropolitan city.
The main activities organized by the program include setting up the Beijing English Testing System, a three-level English certification system that is open to all Beijing citizens; organizing veteran translators to draft the standard version of all public signs and menus of Chinese dishes; organizing weekly English corners around the city, twice-a-year English festivals in parks, English competitions and lectures on skills for learning English.
The standard translation of public signs by BSFLP was released in December 2006, covering five types of public place, including medical institutions, traffic facilities, tourism spots, sports venues and shopping places. Related municipal government branches, such as medical authorities, traffic bureaus, tourism bureaus, sports bureaus and bureaus of commerce were given the responsibility to make sure standard bilingual signs are put up in the facilities and venues they administrate.