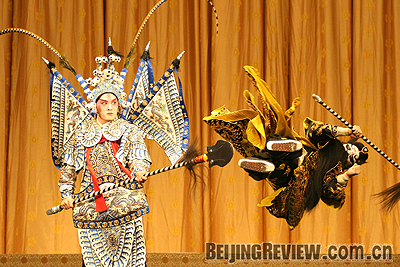 STAGE FIGHT: A Peking Opera performance troupe from Shanghai performs at Chang'an Grand Theater in Beijing
Opened on September 27, 1996, Chang'an Grand Theater is located on east Chang'an Avenue, a major through route of Beijing. It replaces the original theater, which was in Xidan, a city-center shopping area.
Combining ancient Chinese architecture with modern technology, the new theater possesses advanced equipment and a movable stage, an orchestra pit that can be pulled back and forth, computer-controlled lighting and a state-of-the-art sound system to support traditional Chinese operas and other types of performance.
The performance hall, decorated in ancient Chinese style, has 800 seats. The front rows in the performance hall consist of 130 rosewood chairs and 26 rosewood tables, on which teapots, dinnerware with hand-painted images and royal-court-style snack food are placed for performances, reminiscent of the atmosphere of a theater hundreds of years ago. The entrance hall, with Italian natural marble as flooring, hosts stalls selling Chinese-style paintings, handicrafts and replicas of antiques, restaurants, teahouses and a pub.
After China's last emperor was deposed early in the last century, Chang'an Grand Theater became one of the earliest theaters to stage a new genre of Peking Opera with themes of pursuing democracy and freedom, as well as imported Western plays. Thunderstorm, which has been hailed as one of the best modern Chinese plays, was also staged in the theater during this period.
In the early Qing Dynasty (1644-1911), teahouses with opera performances emerged in Beijing. They were the predecessors of theaters like Chang'an. These primitive teahouse-theaters, which were usually located in busy commercial areas, were always crowded, with tea waiters and snack vendors moving among the crowd until the curtain lifted.
The original Chang'an Grand Theater was built by Peking Opera fan and rich businessman Yang Zhusheng. Yang came up with the plan to build his own theater after failing to book the best VIP box to see Xun Huisheng, one of the biggest Peking Opera stars at the time. After the theater was built, Yang's son Yang Shouyi, who was also a Peking Opera fan, was appointed manager. It did not take long for it to become one of the most popular theaters in Beijing. In the 1950s, a group of veteran architects from the Beijing Institute of Architectural Design tested Beijing's best theaters for acoustics and concluded that Chang'an Grand Theater was the best without the aid of electrical equipment.