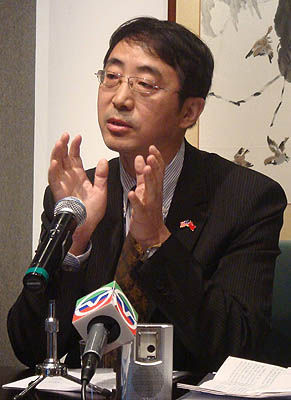 How would you feel if what you're reading from newspapers on a particular issue is not in line with what you've personally experienced for over 40 years? Throwing the paper into the bin could be a temporary way of relieving your frustration. But for Renzhen Luose, an ethnic Tibetan serving as a Chinese diplomat in the United States, that's not enough. Renzhen is finding himself choking in endless unbalanced reports and discussions about his homeland since the March 14 unrest in Tibet. Recently he has had just one mission. He wants to tell as many people as possible about what is really happening in Tibet, based on his own experience, in a bid to clarify misunderstandings about this often maligned part of China.
Renzhen was born and raised in Yajiang County, Ganzi Tibetan Autonomous Prefecture in Sichuan Province. Before he began public life as a consul at the Chinese Consulate General in New York in 2002, he had worked as a farmer, a government official at different levels and a scholar of Tibetan history and culture. Maintaining frequent contacts with fellow Tibetans and having himself experienced and witnessed the changes in Tibet and other areas with Tibetan communities, he said that he is "qualified" to comment on the current situation in Tibet.
Buddhism only a part of culture
When talking about Tibetan culture, people tend to link it to Buddhism, Tibetan Buddhism in particular. However, "Tibetan culture is not only made up of Tibetan Buddhism," Renzhen told a group of reporters based in New York on May 2. According to historical documents, Renzhen said Tibetan cultural traditions were based on 10 branches of learning that include astrology and medicine, and Tibetan Buddhism is only one of them.
With regard to Tibetan Buddhism, Renzhen said, the Dalai Lama is not the sole leader of Tibetan Buddhism as people, especially Westerners, commonly believed. "He is only one of the leaders of the Gelug Sect of Tibetan Buddhism," he added. Tibetan Buddhism has four major sects: Gelug, Sakya, Kagyu and Nyingma, dominance of whose influence in the regional power changed with the different support from Chinese emperors. In the late Qing Dynasty (1644-1911), the Gelug Sect, where the Dalai Lama and the Panchen Lama were institutionalized, gained stronger support from the central government and became dominant in Tibet. Since then, the Gelug Sect had established and exercised a theocracy that integrated religion with government, said Renzhen.
Political or spiritual leader?
Many Western media and government officials have unanimously described the Dalai Lama as a "spiritual leader" for Tibetans, but Renzhen viewed this title as "misleading." He said that the Dalai Lama is actually a political figure who has never given up "Tibetan independence."
In 1963, Renzhen said, the "Tibet government-in-exile" enacted its so-called "constitution" which stated that the Dalai Lama is the leader of the Tibetan people and all matters related to Tibet must be approved by the Dalai Lama before they become effective. The amended version of this "constitution" in 1991 expressly claimed Tibet as an "independent nation" led by the Dalai Lama.
Renzhen also pointed out that even on the homepage of the Dalai Lama's official website, there is a "draft for future political system" decreed by the Dalai Lama in February 1992, which appears in various languages, including English and Tibetan. It provides plans for matters like the institution of posts of president and vice president, political systems and relations with the United Nations, for a future "independent state of Tibet."
Renzhen showed the media a book titled, The Dalai Lama: Man, Monk, Mystic, which described the role of the Dalai Lama as mainly secular and as the leader of the "Tibet government-in-exile."
Published in 2007, The Dalai Lama: Man, Monk, Mystic is an authorized biography by Indian journalist Mayank Chhaya, who works with the New Delhi Best Indo-Asia News Service and had access to the Dalai Lama.
"From the 'constitution' to the main work he's been doing, all these are related with politics," Renzhen said, adding that the Dalai Lama's claim that he had never sought the independence of Tibet is a lie.
Better lifestyle
In The Dalai Lama: Man, Monk, Mystic, Renzhen told reporters, the Dalai Lama said that Tibet is undergoing its "hardest" and "darkest" period of time, something which is believed by many foreigners who have learnt from news reports that there are conflicts between Tibetans and the Central Government and between Tibetan and Han ethnic groups.
"I can be accountable to tell you that there are no conflicts between the ethnic Tibetans and the Central Government, nor those between the Tibetan and Han ethnic groups," Renzhen said. He added that the Dalai Lama has not been back to Tibet since 1959 and does not have a true picture of what's really going on in Tibet. "Actually we feel it the happiest period of time in Tibet," Renzhen said.
According to Renzhen, since the theocracy and feudal serfdom system was abolished in 1959, the Chinese Government has put much effort into the infrastructure and economic development of Tibet. Tibetans now also enjoy more human rights, including rights to education and rights to the convenience of modern life and the majority live in peace, said Renzhen.
Renzhen cited an example of his mother, who in her retirement now enjoys a life of leisure that would not have been possible in the past. Many Tibetan's of his mother's age who remember the history of Tibet treasure their current lifestyle. Young Tibetans, including Renzhen's younger sister, can hardly imagine the hardships of life 50 years ago in their homeland, he said.
Renzhen's work in New York is mainly providing assistance for overseas Tibetans and Tibetans from China living and visiting eastern America with matters such as visa applications. During his six years in the United States, he often talks and discusses with them about the current situation in Tibet and areas with Tibetan communities. "There are disagreements among us, but most of them agreed with what I have said," Renzhen said. He also said that some of them are thinking of going back to invest in their homeland.
(Wang Yanjuan and Chen Wen, Beijing Review, Reporting from New York)