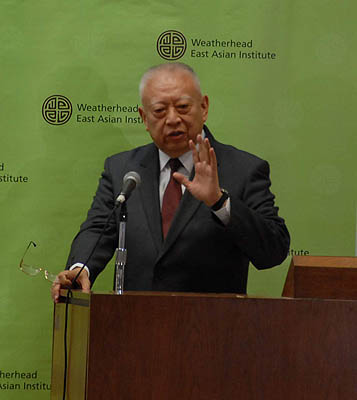 Former Chief Executive Officer of Hong Kong Special Administrative Region Tung Chee-hwa gives keynote speech at the annual China Symposium on April 25, in New York
At this year's China Symposium on April 25 in New York, Tung Chee-hwa, former Chief Executive of the Hong Kong Special Administrative Region, tried to ease the tension between China and the United States over human rights issues, particularly the much-debated Tibetan issue. In his keynote speech, he called for people to look at the truth about Tibet, or to go to Tibet to see what was really going on there.
The symposium was organized by the Weatherhead East Asian Institute and the Columbia Center for Chinese Economy and Society, Columbia University. Tung is also a senior fellow of the Harvard University Asia Center.
After the Tibetan unrest on March 14, he said, the responses from people he had talked to--from Hong Kong, the Chinese mainland and foreign countries--could be summarized in three words: "sadness, anger and bewilderment." Sadness, because of the loss of innocent lives as a result of the riots. Anger, because these were riots organized by the exiled Tibetan organization aiming to put maximum pressure on China before the Olympic Games. And bewilderment because of Western allegations over the "oppression and violation of human rights in Tibet."
He pointed out that there are always some areas that spark criticism about China at certain times, but if one studies the country's history, one will realize that China has actually made much progress in terms of human rights, rule of law and democracy. However, "too little credit is given to China on the progress it has made in all these areas," he said
Tung cited a set of facts and figures comparing Tibet's current situation with that in the 1950s. According to Tung, in the 1950s, only 2-3 percent of Tibetan children were able to receive education, while the number today is over 90 percent; the average life expectancy in Tibet has grown from 35 years in the 1950s to 67 years, with much more healthcare available today in the region. Tung also said that in the 1950s, Tibet had an annual GDP of only $40 million and a population of around 1 million, compared with the current annual GDP of $4.5 billion and a population of 2.8 million, 2.65 million of whom are Tibetans.
"The growth of the population itself demonstrates that as a society, Tibet is moving forward in the right direction," said Tung. "I hope that before you draw any conclusion over Tibet, you will look at the facts, or come to Tibet and China and see for yourself."
Initiated in 2004, the China Symposium is an annual event that aims at educating the public on the global and domestic impact of China's economic emergence. Featuring leading international experts on contemporary China, this year's symposium was themed "Defining Chinese Modernity: Information, Economy and Environment."
(Chen Wen, Beijing Review, reporting from New York)