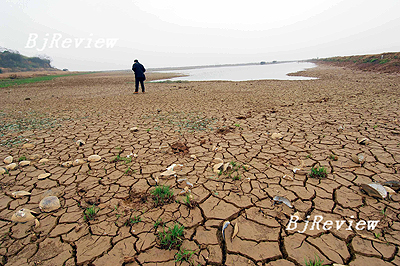 "Guilin tops the world in landscape" is a well-accepted saying for Chinese people. Guilin is a city and tourist resort in south China's Guangxi Zhuang Autonomous Region and attracts many people because of its charming beauty, and Lijiang River, which is known as the "Golden Waterway."
On December 11, 2007, a team of tourists from China's southern Jiangsu Province was shocked and disappointed at the sight of Lijiang River, dry with its riverbed exposed to the air. The scene was a result of a rare local drought that began in early autumn 2007.
According to the statistics from the meteorological bureau of Guilin City, the rainfall in October and November of 2007 in Guilin was only 11 mm, the lowest since 1979, and around 90 percent lower than the average rainfall of the corresponding period in recent years. The water level of Lijiang River had dropped sharply as a result, leaving some sections totally dry, and shrinking the sightseeing area of Lijiang River from 83 km to just 10 km.
Severe Drought
The situation of Lijiang River is not a special case in China. Many places now suffer from long droughts, which are rare in Chinese history.
Wei Weiguo lives on the fourth floor of a building in Dongxiang County, China's southern Jiangxi Province. He cannot get water from the taps in his house for more than 20 days in the winter, and has to go down to the first floor to fetch water.
The water supply of Dongxiang County comes mainly from two reservoirs since the quality of groundwater in the area is low. Last year, however, rainfall of the county was just 70 percent of the average level of recent years. After September, the situation deteriorated with no rain at all. One reservoir has already dried up and the second has becomes the only water supply for the whole county. Even in the second reservoir, water now occupies just 15 percent of the total volume, only 50 percent of that in 2003, when China also suffered from a rare drought.
Dongxiang County is just a small part of Jiangxi Province, which is suffering badly from a long drought that began in July. As a province that is usually hit by floods in summer, the heavy drought was unexpected. From the middle of September to early of December, the average rainfall for the whole province was just 38 mm, the lowest since 1960. Water in the region's main rivers reached its lowest recorded level in the history.
Boyang Lake, the biggest freshwater lake of China, located in the northwest of Jiangxi Province, has been thirsty for a long time. The water area of the lake now is less than 50 square km, well below its usual winter level.
Jiangxi Province's neighbors, Hunan Province and Guangdong Province, face the same situation.
Hu Pengyu is a boat owner in Chenzhou, Hunan Province. He is worried about his boat, which has been stranded in Xiangjiang River for more than 20 days. Hu said it is the first time in 20 years of business that his boat has been stranded for such a long time.
A two-month drought in Hunan Province has decreased the depth of Xiangjiang River significantly, especially for the section from Changsha to Zhuzhou, where it has dropped from 2 meters to 1.3 meters. Kiloton ships and oil tankers are forbidden from passing this stretch of the river. All this has made it difficult for the factories to purchase materials and sell products. More than 300,000 tons of products are in storage and oil supplies have become a problem.
There are altogether 780 counties in Hunan Province that are suffering from drought. More than 6 million mu (400,000 hectare) of crops have been destroyed and 80,000 people cannot get enough drinking water. More than 1,500 reservoirs have become dry. Hydroelectric stations cannot work well due to water shortages, and the electricity produced is not enough to meet demand.
The influence of the drought on shipping along the river is more obvious in the Yangtze River. There have been 10 times of ships being stranded on the Yangtze River since October 2007.
Between September 21 and December 20, rainfall in most areas of south China was much less than that in recent years. The average rainfall in Hunan, Jiangxi, Guangdong, Guangxi, Guizhou and Fujian Province was just 73.1 mm, the second lowest figure since 1951. Until early December, the severe drought had already affected more than 3 million people and 2.5 million cattle in the six provinces mentioned above.
Behind the drought
Compared with 2003, the drought of this winter is not that serious, but the water level in many rivers is much lower. Some experts believe that the large number of small-scale illegal hydroelectric stations built on the upper reaches of the river should shoulder most of the responsibility for this. Taking Jiangxi for example, some enterprises in recent years have randomly explored the water and electricity resources by building illegally as many as 133 hydroelectric stations and the number is still increasing. The stations have forcibly occupied large amount of water resources, especially during drought periods, and have stopped the flow of water in upper reaches to produce electricity, leading to les water in lower reaches of the river.
Meanwhile, in those regions that are suffering from water shortages, the regional governments have either failed to set up a water emergency system or used government plans. Since south China has always had high levels of rainfall, the main concern of regional governments is how to ensure water supply when the water is heavily polluted. Drought is a rare concern.
The water supply infrastructure in the region is also too simple to successfully hold water. Longtan Reservoir is the main reservoir for Le'an County of Jiangxi Province, but for decades there has been just one shabby earth dam, which can only trap 100,000 tons of water. In drought times it cannot even meet the basic demands of local people, not to mention supplying water for agriculture.