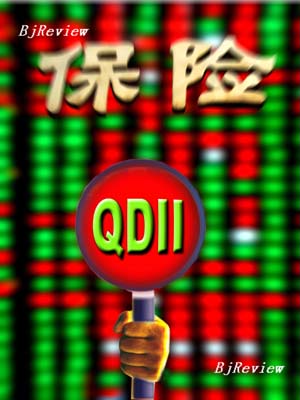 Soaring CPI
Inflationary pressure haunted China all year long in 2007.
Chinaís consumer price index (CPI), a key barometer for inflation, grew 6.9 percent in November year on year, its highest growth rate in a decade.
The CPI growth rate hovered above 3 percent--a recognized international standard to indicate inflationófrom March this year and kept accelerating month after month.
The overall CPI growth in the first 11 months stood at 4.6 percent.
This yearís CPI surge was triggered by soaring pork prices which grew nearly 50 percent each month compared to 2006. In November, the pork price grew 56 percent, and showed no signs of going down.
Reverberations from higher pork prices soon spread to other food sectors like cooking oil, vegetables as well as fruits.
Foodstuffs have a 33-percent weight in Chinaís CPI and were the major force for the CPI surge.
The producer price index (PPI), another measurement for overall inflation, was up a mild 2.9 percent in the first 11 months.
Monetary Policy Frequently Adjusted
In 2007, China raised the reserve requirement ratio 10 times and interest rates, six times.
The central bank raised the reserve requirement ratio from 9 percent at the start of the year to 14.5 percent as of December 25.
The 10th hike came immediately after the Central Economic Work Conference, which set the tone for the next yearís economic development to ìfollow a tightened monetary policy from the previous prudent one.î
The central bank stated that the repeated hikes were aimed at ìstrengthening liquidity management in the banking system and checking excessive credit growth.î It would take diversified monetary measures to cool the economy in the future.
The central bank also raised the benchmark one-year deposit rate from 2.52 percent at the end of 2006 to the current 4.14 percent. The one-year loan rate was raised from 6.12 percent to the present 7.47 percent.
The decade-high CPI forced the central bank to take such actions. The repeated interest rate hikes were also meant to cool down the overheating stock and real estate markets
China Investment Corp. Debuted
China Investment Corp. (CIC), responsible for managing part of Chinaís foreign exchange reserves, began operations this year with senior government official Lou Jiwei as its chief.
The sovereign wealth fund, a Chinese version of the Singaporean Temasek Holdings, was officially set up on September 29. Its aim is to divert the risks of Chinaís ballooning foreign reserve, which stood at $1.43 trillion by the end of September this yearóthe largest in the world.
In May, the CIC, still in preparation, made its first investment in non-voting shares, valued at $3 billion, in the Blackstone Group, a U.S. private equity firm.
The company has had a total of $200 billion in registered capital allocated from Chinaís foreign exchange reserves. The Ministry of Finance issued 1.55 trillion yuan ($208 billion) worth of special treasury bonds to buy the foreign exchange reserves and inject the funds into the CIC.
One third of CICís capital will be used to purchase Central Huijin, which now controls Chinaís major state-owned commercial banks; another third to replenish the capital of the Agricultural Bank of China and China Development Bank; and the remaining third to invest in global financial markets.
Foreign Banks Open Branches
China made remarkable achievements in honoring its WTO commitments in 2007. In the five years since Chinaís WTO accession, operational entities opened by foreign banks increased from 190 to 312.
In April, four branches of foreign-funded banks were locally incorporated and engaged in renminbi retail business, namely, HSBC Bank (China) Co. Ltd., Standard Chartered Bank (China) Ltd., Bank of East Asia (China) Ltd., and Citibank (China) Co. Ltd. More overseas banks are preparing to register their local branches or have filed applications. Most of them registered their China subsidiaries in Beijing and Shanghai.
Once locally incorporated, they are allowed to engage in all foreign and domestic currency business without quota limitations, including offering renminbi services to Chinese citizens. Foreign bank branches can only conduct foreign exchange business and offer renminbi services to corporate and institutional clients. A foreign bank can determine the makeup of its company in the light of its business strategy on a voluntary commercial basis.
QDIIs & QFIIs
China devised two schemesóqualified foreign institutional investor (QFII) and qualified domestic institutional investor (QDII)óto honor its commitments to the WTO by further opening its financial markets.
The QDII scheme, adopted in May, enables domestic insurers, banks and fund management companies to invest in overseas financial markets. It was devised to divert excess liquidity in the domestic market and encourage people to invest in mature markets.
Currently, a total of 16 Chinese and foreign banks, 20 insurance companies and eight mutual fund management companies have been approved by the regulatory departments to invest in overseas markets.
However, the QDII products managed by those companies did not report satisfactory performances due to the volatile international financial markets deeply affected by the U.S. subprime mortgage crisis.
Meanwhile, the QFII scheme, adopted in 2002, made it possible for foreign institutional investors to invest in the mainland financial market. The quota was raised from $10 billion to $30 billion by the end of this year.
To date, a total of 49 foreign institutions have acquired QFII quotas of $9.95 billion, and the value of their portfolio has increased to 200 billion yuan ($26.5 billion).
The two schemes are beneficial to both domestic and overseas markets. When the cross-boarder capital scale is expanded further, the openness of Chinese capital accounts under the international balance of payments will be increased.
Yuan Kept Appreciating
In May, the Chinese central bank allowed the yuan exchange rate to float at a wider rangeóplus or minus 0.5 percent each dayófrom its previous range of 0.3 percent.
On December 14, the exchange rate of the U.S dollar against yuan was 7.3589. The yuan appreciated 5.7 percent this year, and it has appreciated 11.08 percent against the U.S. dollar since China reformed its exchange rate system in July 2005.
The yuanís daily permitted trading range had remained at 0.3 percent for two years. It is widely expected the range will be further widened next year.
Loosening on the yuan is an important step forward and lays a solid foundation for the currencyís full convertibility.
IPO Rush on the Mainland
The bullish performance of the mainland stock market attracted many overseas listed Chinese companies to launch initial public offerings (IPOs) at home.
PetroChina, which holds the biggest weight in the mainland stock market, made 3 billion of its shares tradable in the A-share market on November 5 after seven years of trading in Hong Kong and New York.
To date, the majority of the Hong Kong and U.S.-listed mainland companies have made their debut on the mainland, such as China Life, Ping An of China, Shenhua Energy, PetroChina, Bank of China and China Construction Bank.
On December 14, the total market value of the yuan-denominated A-share market reached 30 trillion yuan ($4.05 billion), more than three times higher than what it was at the end of 2006.
Overseas Acquisition Fever
Domestic companies were more active in acquisitions in overseas markets in 2007. The wave of overseas acquisitions started in the financial institutions.
South Africaís biggest commercial bankóStandard Bankóannounced on December 3 that an overwhelming majority of shareholders had approved the acquisition of a 20-percent stake by Chinaís biggest lender, the Industrial and Commercial Bank of China (ICBC). The deal would make ICBC the biggest shareholder in the South African bank.
Before ICBC hit the road, the China Development Bank (CDB) has become a major stakeholder in London-based Barclays. CDB agreed to pay 2.2 billion euros for a 3.1-percent stake in Barclays.
China Minsheng Banking Corp., the countryís seventh largest lender by market value, is the first Chinese bank to be involved in the U.S. banking sector. It acquired 9.9 percent shares worth of about $317 million of UCBH Holdings Inc.óthe biggest bank serving the Chinese community in the United States. Minsheng announced plans to buy up to 20 percent of UCBHís shares if conditions permit.
Ping An of China, the countryís leading insurer, bought 1.81 euros worth of stocks of Belgiumís Fortis NV in the secondary market, which enabled the insurer to be the biggest single shareholder of the bank.
Tax Rebate Cuts
The Chinese Government made its boldest move ever to slash tax rebates this year. This move was part of a basket of measures to rein in its overheated export growth and reduce its ballooning trade surplus.
The new tax rebate policy, effective on July 1, affected 2,831 items which account for 37 percent of all exported products. Among those, tax rebates of 553 items falling into the categories of ìenergy- and resource-consuming or highly pollutingî were totally abolished, and tax rebates on exports of 2,268 commodities that ìtend to cause trade frictionî were reduced.
Since 2004, China has readjusted its tax rebate policy many times and quickened its attempts at bringing its soaring trade surplus under control.
China-Made Toy Recalls
Starting in June, U.S. importers recalled more than 21 million China-made toys for containing lead paint, loose magnets or cheap industrial solvent.
Most recently, the U.S. Consumer Product Safety Commission recalled 4.2 million China-made Aqua Dots sets on November 8.
However, in fact only 0.9 percent of 3 billion toys sold in the United States each year have been recalled, and the majority of recalls were for design flaws, not manufacturing problems.
Besides this, differences in quality and safety standards are another reason why a considerable proportion of exported toys have come under scrutiny.
In September, Mattel, the worldís largest toy company, issued an official apology to China for the design defects and damaging the reputation of China-made toys, which account for up to 80 percent of the toys sold in the United States.