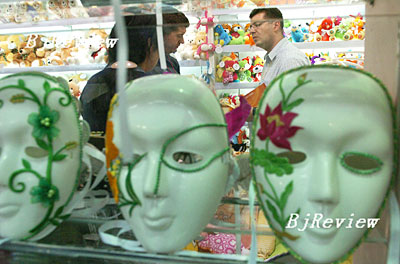 China's foreign trade continued to grow faster than the gross domestic product (GDP) in 2007. Total exports and imports hit $1.97 trillion during the first 11 months, up 23.6 percent from a year earlier. The trade surplus hit $238.12 billion, surpassing that for all of 2006, which stood at $177.5 billion.
While foreign trade expanded in volume, its structure also improved. With a faster pace of machinery and electrical exports and a lower growth of manufactured product imports, China's status as an industrial country in international trade and division of labor has been stabilized.
In the first 11 months, China exported $634.06 billion worth of machinery and electrical products, up 27.8 percent-1.7 percentage points higher than the growth of total exports. During the same period, China imported $217.8 billion worth of primary products, up 27 percent and accounting for 25.2 percent of total imports. The growth was 6.5 percentage points more than that of total imports. Imports of machinery and electrical products hit $452.7 billion, up 16.8 percent, and the growth was 3.7 percentage points lower than total imports.
In terms of trade patterns, especially in general trade, there was evidence of improvement in 2007.
An outstanding feature of foreign trade in the past decade is that processing trade, which is dominated by foreign-owned enterprises, contributes to more than half of China's exports. Despite the fact that China is the world's third largest trading power, Chinese enterprises have only reaped very thin profits from processing products for foreign brand owners and wholesalers, who are the major beneficiaries of the final profits. Without changes regarding dominance of foreign companies in processing trade, Chinese companies in this sector will not see remarkable profit increases.
Between January and November, general trade grew faster than total foreign trade, and general trade exports also grew faster than the total exports. Exports and imports of general trade totaled $874.4 billion, up 29 percent from a year earlier, and the growth was 5.4 percentage points higher than that of total exports and imports. General trade exports hit $488 billion, up 30.2 percent, 4.1 percentage points higher than that of total exports.
This indicates that general trade has gained more weight, a nice trend to see.
China also adopted major changes in its foreign trade policies in 2007, largely in order to cut its trade surplus and improve the structure of export and import commodities.
On April 5, the 2007 Catalogue of Prohibited Commodities in Processing Trade was issued. Since then, 1,140 commodities, including those in the 2007 Catalogue, have been listed as the prohibited commodities for processing trade.
Provisional import and export tariff rates of many commodities were revised as of June 1.
On June 19, the Chinese Government made its boldest move by slashing tax rebates. The new tax rebate system took effect on July 1, affecting more than 2,831 commodities, or 37 percent of the total export items.
As of August 23, 1,853 commodities were added to the list of restricted items in processing trade, accounting for 15 percent of the total customs tariff numbers. This was the biggest move to tighten processing trade in China to this point.
Despite these efforts, China remains focused on issues of trade friction because of its huge trade surplus. Especially evident in 2007, the "Made-in-China" image was stained when the quality and safety of products were called into question after massive recalls. In fact, China should not shoulder the blame for these recalls alone.
China's huge trade surplus and the U.S.'s huge trade deficit are two extremes contributing to the global economic imbalance. Basically, there are two theories to explain the situation. One is the "crowding out" effect of countries with current account deficits like the United States that spend more, save less and thus have excessive demand for capital. The other is the "crowding in" effect of countries with current account surpluses, which, on the contrary, tend to save more, spend less and have an excessive supply of capital.
The U.S. Government tends to support the "crowding in" effect of China and stresses that China should expand domestic demands and allow more foreign investment into the financial services sector. In fact, the external imbalance between the two economies results from the interaction between the irregularities in the economic structures of both countries. It will not work to ask one side to make adjustments.
As for the quality issues, it's also wrong to only blame one side. Economic globalization has developed remarkably in the past two decades and manufacturing has been rearranged among all participants. Supervision systems of both China as the exporter and the United States as the importer have failed to keep pace with global production and trade. Because of these supervision loopholes, the quality of Chinese exports became a hot topic.
The author is a researcher with the Chinese Academy of International Trade and Economic Cooperation, a think tank of the Ministry of Commerce