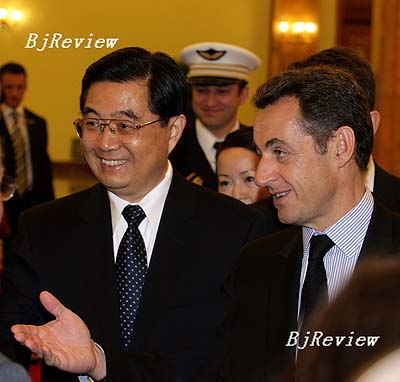 French President Nicolas Sarkozy's first state visit to China was a good start for his presidency. This visit not only signaled that the two countries' comprehensive strategic partnership has entered a new period of historical development, but also marked a new phase in Sino-French relations.
Sarkozy's fruitful tour has deepened the two countries' strategic partnership, especially in political and economic fields. Through discussions, China and France understood better about each other. Moreover, China signed bilateral trade agreements with France, worth more than 20 billion euros ($29.7 billion).
Sarkozy and Chinese President Hu Jintao expressed their confidence on future bilateral ties. At a joint press conference after their meeting, they stressed that the two countries would deepen cooperation in various fields based on mutual trust and mutual benefit, thereby enhancing the Sino-French strategic partnership and common understanding. China and France will continue to exchange views frequently on international issues that concern both.
China and France have maintained close ties for a long time. France's policy toward China is one part of France's independent foreign policy. The French focus on protecting their state interests, while building a world with multiple major powers and pluralistic national cultures. Sarkozy's long-term strategic goals are to increase France's trade and economic interests and reinforce the country's strength during the process of globalization. Without a doubt, French foreign policy will be based on its traditional reliance on the EU and efforts to realize EU unity. It will push forward the development of a multilateral world, while calling for mutual respect and dialogues among different civilizations, so as to play an active but special role in maintaining world peace.
Sarkozy's foreign policy adjustment, which concerns relationships with big countries, including China, is a comprehensive strategic operation. His diplomatic strategy is very clear--France's ties with the EU, Africa, the United States and Asia are the four pillars. China has replaced Japan as France's top focus in Asia, and is an influential element in France's foreign policy.
The Sino-French partnership is based on a wide common understanding of politics, mutual economic interests and cultures that improve mutual trust. The two countries have the same or similar stances on various international issues. They established a comprehensive partnership in May 1997, and upgraded it to a comprehensive strategic partnership in 2004 during Hu's visit to France. Both countries have committed themselves to pushing forward the world's multilateral process. They promise to strengthen the multilateral system, maintain collective security and promote solutions for global problems. They also oppose power politics in international relations and the threat and use of military force. They claim to resolve conflicts between countries through dialogue, cooperation and negotiation. They have called for establishing a multilateral trade system and setting up a fair, just and open international trade order, so as to push forward globalization on the basis of fair trade and mutual benefits. In the meantime, the two countries also are concerned about the negative economic and social effects of globalization. They have agreed on multiculturalism under the backdrop of globalization. China and France also signed an agreement on popularizing the French language in China. French, together with Chinese and English, is an official language of the Beijing Olympic Games in 2008.
Increasing trade volume
China's economic development is tremendous. Therefore, when France reconsidered the changing global strategic structure, it acknowledged China's improving position in the world with the country's rise. Sarkozy's mission in visiting China was to deepen the two countries' comprehensive strategic partnership. In this regard, he had fulfilled his mission.
Currently, France is China's second biggest technology cooperation partner, third biggest investor and fourth biggest trading partner in the EU. Both big French enterprises such as Alstom, EDF Group, Total and Airbus, and small and medium-sized companies have seen vigorous development in China. There are 850 French enterprises operating in China, according to a white paper issued on November 19 by the French Embassy in China. Big enterprises such as Alstom have seen remarkable profits in China that are much greater than the company's average profit levels. Meanwhile, French small and medium-sized enterprises will guide another round of investment in China, according to the white paper.
In 2005, the trade volume was $20.65 billion, and in 2006, $25.19 billion. It is expected that the bilateral trade volume can hit a new high of $30 billion this year. Cooperation in nuclear power is now a new focus of bilateral cooperation. Moreover, the bilateral cooperation on environment protection has a lot of potential.
As elsewhere in the world, France's investment in China faces risks and challenges. In 1997, French enterprises accounted for 2.8 percent of the total market share in China. In 2004, they accounted for only 1.35 percent. France is the 15th biggest exporter to China, and lags behind Britain and Germany. The reason mainly has to do with industrial and trade structures, not just intellectual right disputes and technology transfer limits.
Although the current Chinese investment in France does not amount to much, France sees a bright future for investment from China. There are 100 Chinese enterprises operating in France now. China National Bluestar Corp. acquired France's Rhodia and Adisseo Group's silicon business last year for nearly 1 billion euros ($1.49 billion). In the meantime, France is planning to offer tax concessions to Chinese enterprises. France also will simplify visa procedures for Chinese entrepreneurs who will invest in the country. In his visit, Sarkozy expressed French Government's eagerness of welcoming Chinese investors.
Growing ties
For Sarkozy, stabilizing and developing France's relationship with China comes naturally, because it will maintain France's position in the world and promote the common interests of the two countries. Therefore, Sarkozy has good reason to continue the China policy of his predecessor Jacques Chirac.
During his talks with Hu, Sarkozy reiterated that France strongly supports the one-China policy and opposes Taiwan's bid for UN membership.
Sarkozy himself is very friendly toward China, which he visited three times in 1991, 1995 and 2004, respectively. Before the presidential election, Sarkozy said he believes France-China ties play an important role on the world stage, and is an important force that kept the world in balance.
The Sino-French partnership is part of the Sino-EU relationship and Asia-Europe dialogue. Therefore Sarkozy's visit to China also has strengthened the overall Sino-EU strategic partnership, which offers bigger opportunities for China-EU cooperation. For a long time, France has been pushing for lifting the weapons embargo against China. Sarkozy reaffirmed these stances in China as well. In the second half of 2008, France will hold the EU's rotating presidency and it will continue to carry out the terms of the Partnership and Cooperation Agreement that the EU signed with China.
Earlier this year, China and France signed a bilateral extradition treaty that laid a foundation for the two countries to work together on combating cross-border crimes. Sarkozy also has boosted legislative cooperation and promoted talks with China on human rights issues.
It is believed that Sarkozy's tour of China has created a firm foundation for the future development of the two countries' bilateral relations.