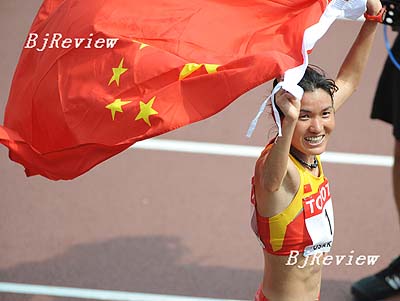 At a workshop organized by the Chinese Olympic Committee in Beijing on November 17, the spotlight was focused on one person, 70-year-old Zheng Fengrong. Exactly 50 years ago, 20-year-old high jumper Zheng leaped into history, creating a new high jump world record of 1.77 meters, and recording the first track-and-field record by a Chinese athlete.
A congratulatory telegraph to Zheng from the President of the International Olympic Committee (IOC) Jacques Rogge was read at the workshop. Rogge praised Zheng as "the first Chinese woman to create a world record."
In the history of China's competitive sports, women have outperformed men in terms of medals. At the Athens Olympic Games, the American team topped the gold medal table with 35 gold medals. Yet looking at the performance of women athletes alone, China had the strongest female team among all countries, which collected 19.5 gold medals, the half coming from the badminton mixed doubles competition.
At the 2000 Sydney Olympics China's female athletes won 16.5 gold medals while the men won 11.5. In Atlanta, China's women won nine and men seven. And in Barcelona women beat men in terms of gold medals by 12 to four.
So far, of the 114 Olympic gold medals, China has won at both Olympic Summer and Winter Games, 67 have been awarded to female athletes.
The trend of a stronger Chinese female team has shown no trace of diminishing. At the latest continental games China took part in, the Doha Asian Games in 2006, Chinese female athletes snatched 93 gold medals out of the total 165. China's athletic female laureates included top-notch performers at Athens as well as younger dark horses who are expected to create a surprise at the Beijing Olympics.
Beijing-based freelance writer A. Dai wrote in his blog: "Chinese men sometimes feel a loss of dignity seeing the opposite sex grab top honors in international competitions. But they are more often proud of their female compatriots' stunts. After all, Chinese male athletes won the country's first Olympic gold medal and the country's first world championship title in a team event. China's splendid sports honors have been achieved by both male and female athletes."
Li Xiaozhi, a sports historian, believes that the development of female competitive sports is attributable to several factors. Chinese historians agree that the women's movement in the West was different from the women's movement in China. "The women's movement in the West emphasized the fight against male supremacy while ignoring reforms on existing unfair factors in social life and reforms in economic sectors," said Li. He said that by comparison, during the feminist movement in China, socialist public ownership had provided the basis for equal economic status between men and women, which helped to guarantee completely equal political rights between the two genders.
"These conditions have ensured that women are treated equally in the drafting of sports development strategies, which is the primary impetus to the rapid development of women's sports in China."
Some experts say that government sponsorship for professional teams in China also helps women athletes achieve better performances compared with their foreign competitors of the same level. In many countries, some women athletes, especially those in less commercialized sports, cannot afford to go professional. In China, the government pays for the training of athletes in all Olympic events.
Dong Jinxia, a professor at Beijing Sport University, said the rise of Chinese female competitive sports and development of world female sports in general have become inspirations for each other. "The principle of fair play in sports has provided men and women with an absolute equal opportunity, if not the only equal opportunity, to prove themselves and pursue excellence," said Dong.
Some experts believe Chinese women teams' outstanding performances in events like soccer and weightlifting are due to the fact that these events have developed longer in China than in other countries, before they were listed as Olympic events. When women athletes of European countries and the Unites States accumulate enough experience, our advantages in these events will diminish, especially in strength-demanding events," said an expert who requested anonymity.
Medical experts have pointed out the psychological factors prompting Chinese women athletes to outperform male athletes in Olympic Games. According to national physical surveys in China, Japan, the United States and Canada conducted from the late 1970s to the mid-1980s, Chinese women were physically closer to women in other countries than were Chinese men. Chinese women's rising performance in international competitions has also fueled women's enthusiasm in sports, which has made them healthier and happier.