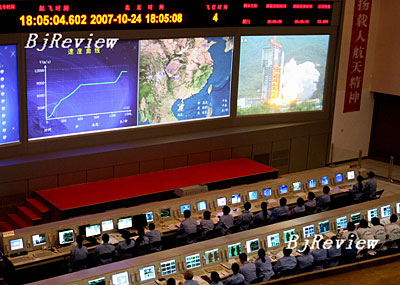 KEEPING WATCH: At the Beijing Space Command and Control Center, staff closely monitor the motion of the orbiter Chang'e 1 (YAO DAWEI)
On October 24 China took a step into space with the takeoff of the country's first circumlunar satellite, Chang'e 1. The launch represented a move toward realizing the country's ambition to become a major power in outer space.
"The lunar probe is an important stimulus for China's scientific development, a significant demonstration of China's overall national capacity and a promotion of its national prestige on the international stage," said Luan Enjie, Chief Commander of the country's lunar orbiter project.
As the most sophisticated satellite Chinese experts had ever handled, Chang'e 1 had been maneuvered at least 10 times over the next fortnight, covering more than 1 million km before it finally arrived in the moon's orbit on November 5 after entering Earth-moon transfer orbit on October 31.
With a total investment of 1.4 billion yuan (about $180 million), the lunar orbiter, the first made by a developing country, is one of the cheapest in history.
Self-innovation
According to the space plan, the satellite will relay its first pictures of the moon in late November and will then continue scientific exploration of the moon for a year, measuring its temperature using microwave radiation technology, estimating the depth of the lunar crust and exploring the environment between the moon and the Earth.
Building the lunar probe required high levels of technology in many areas including rocketry, communication, monitoring and control, remote sensing, and research apparatus, according to Luan.
"These will provide us with the impetus to make rapid advances in China's science and technology so that in the near future China can get its own first-hand materials from the moon," he said.
Circling 200 km above the Earth's surface, the lunar orbiter will use stereo cameras and X-ray spectrometers to map 3-D images of the lunar surface. Currently there are no such 3-D images available anywhere in the world.
"The images will help us better understand the structure of the moon," said Ye Peijian, Chief Designer and Commander in Chief of the satellite system of China's lunar probe program.
"We will explore 14 group elements of great importance on the moon's surface. The United States only studied five groups," said Ye.
The Chinese lunar probe is equipped with an efficient payload data managing system to collect, store, process and transfer data, said Ye.
"The lunar project represents the development of China's self-innovation capacity in terms of the exploration of outer space, which is also a contribution to the world," he added.