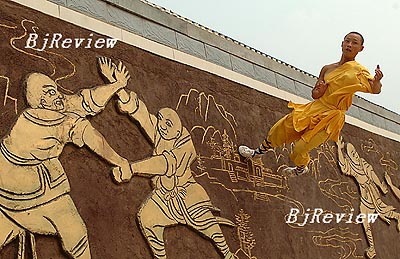 Along with UNESCO proclaimed intangible cultural heritage, China has a National List of Intangible Cultural Heritage. These intangible national treasures are facing their toughest challenge to date in the ongoing fight against the unrelenting drive of urbanization and globalization. Without urgent attention many of these aspects of China's rich history could be lost forever. Here we bring you a brief introduction of six art forms that, among many others, need protection.
Shaolin Kungfu
With a history of 1,500 years, Shaolin kungfu is the most influential of all China's martial arts. Based on the wisdom of Buddhism and their unique fighting skills, the Shaolin fighting monks in Songshan, Henan Province, devised astonishing methods of defense and attack, which include fist, stick, falchion, spear, sword, long weapon and short weapon routines. In recent years, Shaolin kungfu has gained more popularity at home and abroad, but how to better protect this ancient martial art form still deserves deep consideration.
Shadow Puppets Show
Shadow Puppets Show came into being in the Han Dynasty (206 B.C.-220) and this art form is one of the oldest dramas in China. The puppets are made from the hides of donkeys or oxen and operated by a person hidden behind a white cloth. The puppet's joints are connected by thread so that they can move freely. Shadow puppets use exaggeration and heavy dramatization with vivid humorous costumes. Audiences are attracted by the lingering music, exquisite sculpture, brisk color and lively performances. Shadow Puppet performances can be found in provinces across China from Guangdong Province in the south to Liaoning Province in the north. Today the strong challenge from modern TV plays and movies, as well as the decreasing numbers of audiences and performing stages, put shadow puppets in a critical point of development and calls for urgent protection.
Nuo Opera
Nuo Opera, arising from the sacrificing activities in primitive society, took form in Nuo Dance in the Shang Dynasty (1600 B.C.-1046 B.C.). In the Yuan Dynasty (1206-1368), Nuo Opera came into being as a regional opera on the basis of Nuo Dance. The main feature of Nuo Opera is that every character wears wooden masks and the stories are mainly about ghosts and gods. It was popular in several provinces, such as Anhui, Jiangxi, Hubei and Hunan, where it mixes with the local culture and took on its own style in each. Nuo Opera is a mixture of history, folk custom and primitive opera. With a wider variety of entertaining options available in modern society, Nuo Opera has been hard pressed to cross generation barriers.
Xiang Embroidery
Xiang Embroidery, meaning embroidery from Hunan Province, is one of the Four Great Embroideries in China. With a history of more than 2,000 years, it is world famous for its exquisite techniques and unique features. During the long process of development, Xiang Embroidery adopted the techniques used in traditional Chinese painting, as well as the techniques of engraving, calligraphy and embroidery. By the end of the Qing Dynasty (1644-1911), it formed its own unique style and reached its peak. Xiang Embroidery is known for its tiger patterns, which are double-faced with different images and colors on each side of transparent chiffon. With the rapid development of China's market economy, and many people migrating from rural to urban areas, the traditional techniques of Xiang Embroidery is in danger of being lost.
Yixing Ceramics
Yixing Ceramics started in the Song Dynasty (960- 1279) and reached its height in the Ming Dynasty (1368-1644). With a history of more than 600 years, the technique is mainly used in making teapots. The ceramic is made of zisha clay, the best material of antique teapots that can only be found in Yixing, Jiangsu Province. It has become increasingly rare. It is said that zisha clay is more valuable than pearls and jades for the latter can be found anywhere. Zisha teapots merge the advantages of calligraphy, carving and drawing, showing consummate handmade techniques. Zisha Ceramics has various shapes and designs, with a variety of decoration, such as engraving, hollowing, carving, inlay and painting applied on the wares. However, with the introduction of industrialization, the teapots can be made in large scale but lower quality, with over-exploitation and abuse of the rare clay. Preserving this technique is of vital importance.
Ansai Waist Drum Dance
Ansai, a county located in Shaanxi Province, became famous for its waist drum dance, large-scale folk event that dates back to the Spring and Autumn Period (770 B.C.-476 B.C.) in Chinese history and is popular on the Loess Plateau in central China. Farmers there celebrate festivals by staging a large-scale Ansai Waist Drum Dance. The number of drummers performing together can reach from 500 to 1,000 and the energy of performers is a sight not to be forgotten. In 1996, Ansai County was named "the hometown of the Chinese waist drum." Today, Ansai Waist Drum Dance is facing a big challenge with the decreasing number of performers, even in Ansai County itself. Urgent attention is needed to ensure continuity of this art form.
Compiled by Yuan Yuan
(Source: http://www.ihchina.cn/main.jsp)