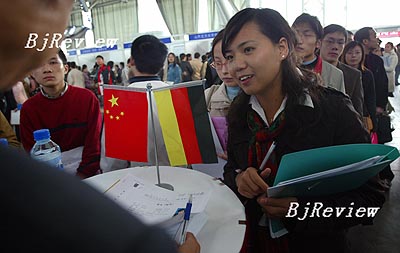 While many people in China wouldn't be able to tell the German flag apart from a flag of another European country, most certainly would be able to identify the Volkswagen logo. This German automobile brand, the first to cooperate with Chinese auto makers, is well known in China, even in rural areas.
Although nearly all of the famous international auto brands have entered the Chinese market during the past two decades and are competing with Volkswagen, the prestige of Volkswagen has not been dampened. According to statistics of the China Association of Automobile Manufacturers, during the January-August period of 2007, among the top 10 auto brands with the largest sales volumes in the Chinese market, the Santana and Jetta makes produced by Volkswagen's joint ventures in China ranked first and second. This ranking has not changed in the past 20 years.
Other German companies and brands have also entered China since the reform and opening-up drive in the late 1970s. In a survey from BBDO, one of the world's leading advertising agencies, the image value of Germany brands among Chinese consumers reached 72 percent, higher than that of Japanese and U.S. brands. The survey also shows that among German brands in China, Volkswagen and Mercedes-Benz ranked first in brand awareness with a rate of 96 percent. BMW and Siemens rank second (95 percent) and Audi third (92 percent), followed by Adidas (84 percent), Porsche (81 percent), Puma (63 percent), METRO (33 percent) and NIVEA (30 percent).
Chinese consumers commend German products for their reliable quality. With regard to social accountability, German companies are deemed as one of the best by Chinese consumers. Figures from China's Ministry of Commerce (MOFCOM) show that there are more than 2,600 German companies investing in China.
Early bird
In November 1982, Volkswagen reached an agreement with the former Shanghai Tractors and Automobiles Co. for trial production of 100 Santana sedan cars. This was the first time that China introduced auto production from a foreign company. Today, Volkswagen has two joint ventures in China-Shanghai Volkswagen, which makes Santana cars, and FAW-Volkswagen in Changchun, producer of Jetta-with a total annual output of 500,000 units. Of the 17,000 employees of the two joint ventures, 99 percent are Chinese. Over the last two decades of development, Volkswagen once occupied 80 percent of China's auto market share.
"Success of Volkswagen in China has benefited from its localization policy to a large extent," Yang Weiguo, researcher at the Institute of European Studies of the Chinese Academy of Social Sciences, told Beijing Review.
Although Volkswagen is the best-known German company in China, the earliest arrival was not Volkswagen, but Siemens. The first contract between Siemens and China was inked 135 years ago in 1872, when Siemens sold Pointer telegraphs to China. At that time, such equipment was a "hi-tech" product. Later, Siemens received other orders, such as for the lighting system in Shanghai, the submarine communications cable from Shanghai to Hong Kong laid in 1897 and the first streetcar line of Beijing built in 1904.
In August 1980, Siemens restarted its business in China, shortly after China implemented its reform and opening-up policy. Now, the products Siemens provides to the world are also offered to China, from mobile phones to medical-use computer scans, from railway technologies to power plant equipment.
By the end of the 2006 fiscal year (September 30, 2006), long-term investment made by Siemens in China had topped 15 billion yuan ($2 billion), and in the fiscal year 2006, its sales volume in China reached 50.4 billion yuan ($6.72 billion). With more than 70 operating companies, 60 representative offices and over 43,000 employees in China, Siemens has become one of the country's foreign-funded companies with the largest number of employees.
Investment continues
On September 7, 2007, the German Confederation of Small Business and Skilled Crafts-China International Purchase Center was set up in Kunshan, Jiangsu Province, aimed at expanding the China-Germany economic and trade platform and helping German small and medium-sized enterprises (SMEs) speed up their connections with the Chinese market.
Indicated by the figures of the MOFCOM, in the last two years, mutual investment between China and Germany has increased, and investment made by German companies in China has been rapidly increasing.
By April 2007, over 5,500 German investment projects had been approved since 1980. Most of these projects are for production with large investment volumes and a high technological level. Since China's reform and opening-up, paid-in capital from German companies has been $15.66 billion. In the first four months of 2007 alone, paid-in capital from Germany reached $2.22 billion, surpassing the respective total of 2005 ($1.53 billion) and 2006 ($1.98 billion). Among the total German investment in China, 90 percent has gone to the three major economic areas: the Yangtze River Delta centered on Shanghai, northeast China, and the Pearl River Delta centered on Hong Kong and Guangzhou.