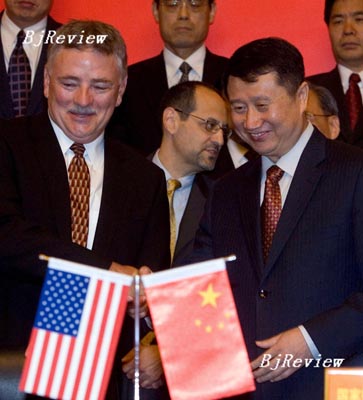 China will boost nuclear power generation by opening the industry to private and foreign investors to help meet the country's growing demand for electricity, according to a proposed nuclear energy law.
The draft of the nuclear energy law allows domestic and foreign companies to invest in the country's nuclear power projects without holding a controlling stake, said Wang Yiren, a senior official with the Commission of Science, Technology and Industry for National Defense Industry (COSTIND).
The government has strict controls over prospecting and mining of uranium ore but allows foreign experts to assist Chinese geological authorities in their prospecting efforts, added Wang.
China signed an agreement with Australia last April to purchase uranium for its nuclear power projects, a move that will help build its strategic reserve for uranium in the coming years as global competition for the scarce resource heats up.
According to China's Medium- and Long-term Plan of Nuclear Power Development (2005-20), the country's total installed capacity will increase to 40 gigawatt (gw) in 2020, with construction of at least three nuclear power-generating units commencing in each of the coming 10 years.
The nation's current installed capacity of nuclear power stands at 8.7 gw, accounting for merely 1.8 percent of its total installed capacity of electric power, lagging far behind the world's average level.
The nuclear industry generated 54.8 billion kwh of electricity last year, contributing less than 2 percent of the nation's total energy needs. However, the rate is expected to increase to 4 percent by 2020, according to Wang.
China is the world's second largest power consumer after the United States and the third-largest oil importer. The nation used more than 590.78 million tons of raw coal for power generation in the first half of this year, up nearly 18 percent year-on-year, according to the China Electricity Council.
Overall, China generated 1.47 trillion kwh of electricity in the first half of this year, representing a 15.7-percent year-on-year increase. Despite the increase, power crunches continued to affect such provinces as Guangdong, Zhejiang, Hainan, Shanxi and Liaoning, said the National Development and Research Commission (NDRC).
Developing nuclear power will relieve the nation's reliance on coal to generate power and reduce the cost of power generation. According to the nation's top economic planner, as many as 32 nuclear power plants are expected to be built by 2020 as part of the nation's efforts to meet surging power demands while cutting emissions and reducing reliance on imported oil.
American, French and Russian nuclear power technology suppliers have all been vying to land contracts in China. As part of the plan to promote cutting-edge third-generation nuclear technology, China's State Nuclear Power Technology Corp. Ltd. (SNPTC) and the China National Technical Import & Export Corp. (CNTIC) signed deals with Westinghouse Electric Co. on July 24 to build four nuclear power plants in China and transfer core technologies for third-generation AP1000 reactors.
Aiming to build a self-reliant nuclear power industry, China began inviting public bids for the third-generation nuclear power projects in 2003. U.S.-based Westinghouse, France's Areva and Russia's AtomStroy-Export (ASE) have been competing for the contracts since 2005. Westinghouse finally won out due to "its technology, its promise to transfer expertise and the prospects for developing local technology," said Wang Binghua, SNPTC Board Chairman.
"We will transfer the complete technology to allow the Chinese to eventually become self-sufficient and apply this technology themselves,'' said Westinghouse President Steve Tritch, who described the deal for third-generation AP1000 reactors as "landmark, multibillion-dollar contracts."
"This is truly a win-win for China and the United States," Tritch continued. "China benefits because it will move closer to its goal of energy independence through deployment of the AP1000 technology. The United States benefits through both job creation and the multi-billion dollar export of products, technology and services."
According to Tritch, the deal will create 5,000 well-paying design, engineering and manufacturing jobs in the United States.
The first reactor adopting the third-generation AP1000 technology will be built in Sanmen of east China's Zhejiang Province. Construction will start in 2009 and reactors are scheduled to come online between 2013-15.
"It will also be the first nuclear station using the AP1000 technology in the world," said Wang, adding that new reactors would also be built in Haiyang of east China's Shandong Province.
The AP1000 technology is superior to previous ones because it uses less cable, piping and valves, thus cutting the cost and reducing the need for large cooling towers and other equipment. It also increases safety by using gravity instead of mechanical pumps to deliver cooling water to the reactor in the result of an emergency, according to Westinghouse technicians.
China now has 11 nuclear reactors in operation, all based on technology one generation behind the new Westinghouse model. Three were built with Chinese technology, while others used Russian, French or Canadian know-how.
The two 1,060-megawatt (mw) generating units at the Tianwan nuclear power plant in Lianyungang, a port city in Jiangsu Province, for example, are part of a Sino-Russian cooperation project with a total investment of 26.5 billion yuan. Dayawan nuclear power plant in Guangdong Province imported two 900 mw units from France, and the Lingao plant in the same province built two 980-mw units through joint efforts between Chinese and French engineers. The China Nuclear Engineering and Construction (Group) Corp. holds a controlling stake of 45 percent in both of the two commercial plants in Guangdong Province.