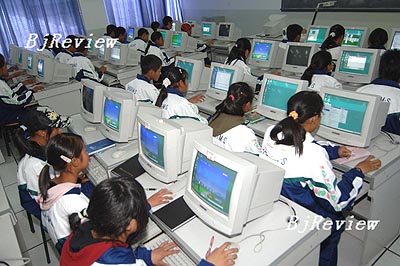 Around 12 km north of Lhasa lies a village of 23 families in the mountains where the houses are relatively new and built in typical Tibetan architectural style, with colorful prayer flags flying in wind at every gate.
Dekey Yangdzom, who graduated from a high school in Lhasa this year, lives in this village. In the courtyard of her family home, with polished concrete flooring, a small garden sits at the corner, where different types of flowers blossom. In Tibet, July is the most beautiful season of the year. Next to the garden is a solar power kitchen range and a tap for water, which comes from the nearby mountains.
Dekey's house has three bedrooms, one housing a shrine for worshipping, one for her parents and one for their only daughter. Their kitchen and storeroom are next to the gate. The compact layout makes the whole yard look delicate and tidy.
When Dekey appeared at the doorway, she seemed to be shy. When asked how she felt about the recent national college entrance exam, the 19-year-old woman answered, "It is Okay." At the time she was anxiously waiting for her results, which were announced a few days later. Her scores won her a place as a tourism management major.
Dekey studied at a boarding school and only went back home once a month. Besides all the usual high school courses taught across China, Dekey and her schoolmates also had to study the Tibetan language.
According to local education administrators, the Tibet Autonomous Region Government has attached great importance to the use and development of ethnic languages. Now school teaching is mainly conducted in the Tibetan language and the majority of teachers at schools and colleges in Tibet are ethnically Tibetan.
The autonomous region's government has also enacted regulations, saying that the Tibetan language should be taught to Tibetan students at schools and colleges at all levels as a major course and all other courses should be taught in the Tibetan language in principle.
The regulation also stipulates that the Tibetan language should be a tested course on entrance exams to middle schools, vocational schools and universities in Tibet and graduates from Tibet universities, colleges and vocational schools should not be granted certificates if they cannot pass the Tibetan language test.
Teacher-training colleges and academies in Tibet are trying to produce enough teachers that can teach in the Tibetan language. Teachers that can teach in both Chinese and Tibetan are more favorably considered for pay rises.
In Tibet, children start to learn Chinese from grade one of primary school and learn English from grade three. Dekey said that of the three language courses she liked Tibetan the most.
"Through studying the Tibetan language we can understand our unique culture," said Dekey, who felt happy to learn about Tibetan culture at school although she had picked up many elements of it from daily life.
Tuition and accommodation for Tibetan students up to high schools are fully paid for by the government. Their families do not have to pay a penny until their children graduate from high school. Parents do not have to worry about their children's health at school either since their diet at boarding school is likely to be more diversified and balanced in nutrition than at home.
Tibetan families that have to support their children receiving college education can receive subsidies. Dekey said although her family can afford her university tuition, they will also receive subsidies to support her.
About 95.9 percent school-age children in Tibet go to primary school. High school education enrolment is 30.3 percent and higher education enrolment has reached 13.2 percent.
The expansion of students' enrolment has made college entrance exams in Tibet as competitive as in other parts of China. In 2007, over 15,000 students took college entrance exams, competing for about 8,700 admission opportunities.
Dekey said the reason she chose to major in tourism management at Tibet University is that she wants to become a tourist guide to introduce Tibet's culture, history and folk art to visitors from around the world.