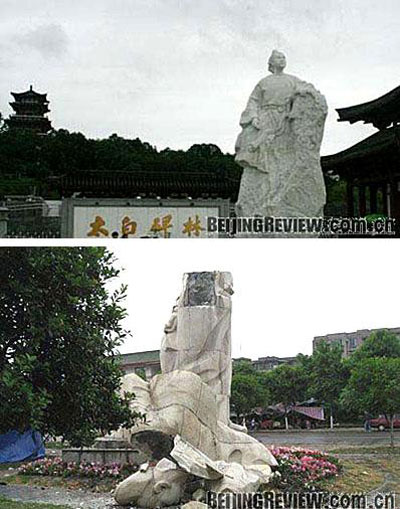 Status of poet Li Bai before (above) and after the quake
General Information
Li Bai (701-762) was also called Tai Bai or Qing Lian Ju Shi (literally "the Blue Lotus Recluse"). Approximately 1,100 of his poems remain today.
Located in Jiangyou City, 40 km away from Mianyang City center, the former residence of poet Li Bai is actually a cultural and scenic corridor, and consists of his tomb (only clothes, no body); memorial museum, pavilion, park and temple, all of which commemorate Li, one of the most renowned and admired poets in China.
Situation after the quake
The ridges of roofs of all the buildings within the complex were damaged; the walls were split and partially collapsed.
The situation became worse when a 6.0-magnitude aftershock hit Jiangyou City on May 18, razing the screen wall (an isolated wall located either outside or just inside the gate of a traditional Chinese home, used to shield the inner quarters) of Li Bai's former residence and side hall of his memorial temple to the ground.