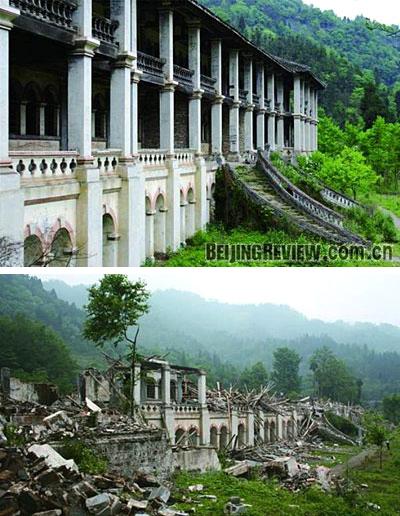 Church of the Annunciation in Pengzhou City before (above) and after the quake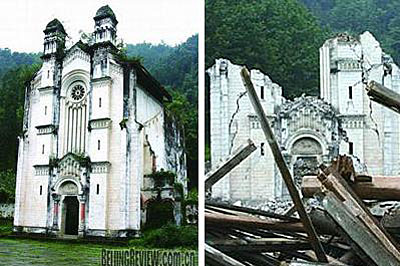 Church of the Annunciation in Pengzhou City before (left) and after the quake
General Information
Located in Huishui Village of Bailu Township, 23 km away from the Pengzhou City center, the Annunciation Seminary was once regarded as a cradle of vocations. It was also called Bailu Shangshuyuan ("Higher College" as opposed to Bailu Xiashuyuan, or "Lower College"). The seminary's construction began in 1895 under priests from the Paris Foreign Mission, and was completed in 1908. About 1,000 laborers reportedly worked on the project.
Made of wood and bricks, it featured a combination of Eastern and Western architectural styles -- a Gothic chapel surrounded by a two-story Chinese courtyard. The upper story, with more than 60 rooms, was used as a student dorm; the ground floor was used for teaching, cooking, and bakery. Unfortunately, it was partially damaged by landslides in 1934.
It was listed as a national heritage site in 2006. Several Catholics lived around the area, which also became a popular spot for wedding pictures to be taken.
Situation after the quake
The structure collapsed within 8 seconds of the quake, a witness recalls. A total of 10,000 square meters of architecture fell, causing a loss of 50 million yuan ($7.25 million). The chapel, the main entrance, the front hall and side halls of the courtyard were all destroyed, according to historical relic experts.