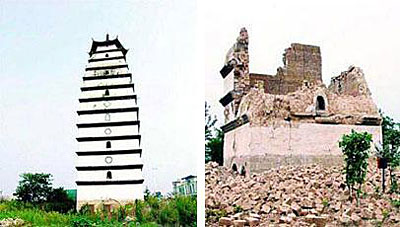 Wenxing Pavilion in Anxian County before (left) and after the quake
General Information
Located in Huagai Township, 21.5 km away from the east Anxian County center, the Wenxing Pavilion is listed as a provincial-level historical site. The construction was finished in 1878 -- 53 years of work. The 13-story pavilion is made up of bricks, and considered one of the county's landmark architectures.
Situation after the quake
The 28m-tall pavilion collapsed; the remains are only 6m tall.