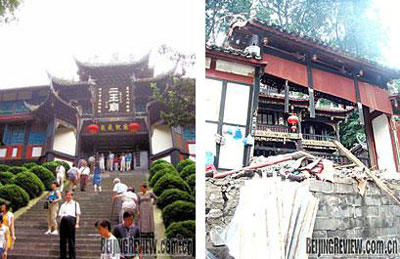 The Erwang Temple in Dujiangyan City before (left) and after the quake
General Information
The Erwang Temple (or Two Kings Temple) is located on the banks of the Minjiang River at the foot of Mount Yulei. The original temple built in memory of an ancient king was relocated, and so locals renamed the temple in honor of Li Bing (the chief designer and engineer of the Dujiangyan Irrigation System) and his legendary son, whom they had posthumously promoted to kings since the Song Dynasty (960-1279).
First built around Southern and Northern Dynasty (420-589) and rebuilt in the Qing Dynasty (1644-1911), the 10,072-square-meter wooden complex conforms to the traditional standard of temple design, except that it does not follow a north-south axis. It consists of two parts -- landscaping in the east; palaces and halls in the west. The main hall, which was damaged by fire in the 1930s, contains a modern statue of Li Bing; his son's statue can be seen in the rear. The Guanlanting Pavilion stands above the complex and is inscribed with the wise words of Li Bing, for instance: "When the river flows in zigzags, cut a straight channel; when the riverbed is wide and shallow, dig it deeper."
Each year, locals offer sacrifices to Li Bing and his son on the 24th and 26th days of the 6th month of the lunar calendar respectively (reputedly their birthdays), expressing their gratitude for them.
Situation after the quake
The entrance gate was ruined; and several of the palaces and halls collapsed. Qinyanlou, once regarded as the best spot overlooking the Dujiangyan Irrigation System, sank. The opera stage, side halls, screen walls, stone stairs, pavilions and outer walls have been reduced to rubble.