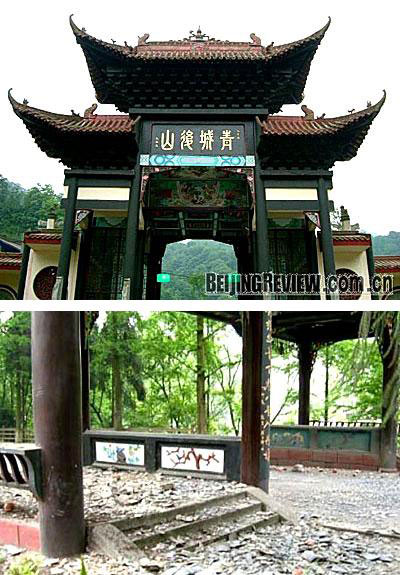 Qingchengshan Mountains in Dujiangyan City before (above) and after the quake
General Information
Located in Dujiangyan City, Qingchengshan Mountains were the site of the Yellow Emperor's studies in Taoism mythology, with Ning Fengzhi. As a center of the Taoist religion, it became host to many temples. It features numerous undulating peaks and luxuriant forests. Small wonder that it is renowned as "the most tranquil place on the Earth."
The architectural styles of the verandas, bridges and pavilions on the mountain are unique. Most of them are supported by logs with barks and knots and roofed with the barks of China firs.
Situation after the quake
More than 100 Taoist temples from the top down to the foot of the mountains were severely damaged -- ridges of roofs and main structures became slanted; wooden beams cracked; and outer walls collapsed.