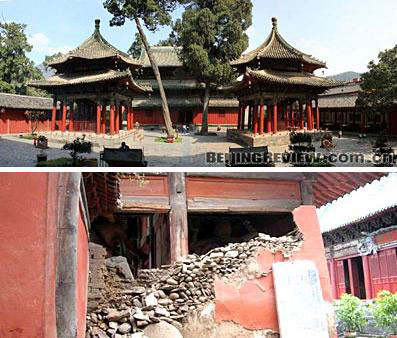 Bao'en Temple in Pingwu County before (above) and after the quake
General Information
Bao'en Temple (also known as Bao'en Monastery) is one of the country's most well-preserved 15th century Buddhist monastery complexes.
Covering an area of 27,800 square meters, the complex was first built in 1440. It includes a main hall, pavilions, the Dabei Hall (enshrining a thousand-armed image of Avalokitesvara) and the Huayan Hall (containing a precious revolving sutra cabinet). As is typical in Chinese Buddhist temples, the major halls were constructed along a central axis while the minor halls and other structures were built along transverse axes. The wall paintings, sculptures and other ornamental details were finished by 1460. The ornamental additions, such as the Ming (1368-1644) period sculptures, murals, the wooden Avalokitesvara and the sutra repository are masterpieces. The complex is widely regarded as a major achievement in Ming religious architecture.
Situation after the quake
The complex was seriously damaged: the ridge of the entrance gate was cracked; arms of statues broke; the walls within Tianwang Palace and the main stone stele collapsed; murals were damaged; and the walls of the sutra repository were ruined.