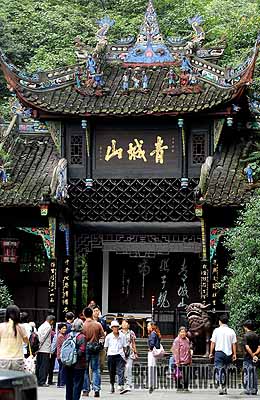 TOURISTS RETURN: Safety is the primary concern of tourists to Sichuan at present, though most of Sichuan's scenic spots had resumed business by June 21
Sichuan's economy will need five to seven years to return to the level of prosperity it enjoyed before the earthquake struck, said Hou Shuiping, President of Sichuan Academy of Social Sciences one month after the 8.0-magnitude earthquake shook the province.
The academy held a seminar on the earthquake's influence on Sichuan's economic and social development on June 12. The consensus of more than 100 experts and scholars was that the earthquake, having exerted a huge impact on the provincial economy, has resulted in direct economic losses of nearly 500 billion yuan ($71.4 billion) and that the Chengdu-Deyang-Mianyang economic belt, which is of primary importance to the province's economic development, has been severely damaged.
Agriculture devastated
The earthquake drowned and destroyed extensive farming areas, resulting in a drastic decline in farmland in Sichuan, said Liu Qing, a researcher with Chengdu Institute of Biology under the Chinese Academy of Sciences. Frequent landslides have covered many fields with rocks, which affected their fertility and arability and reduced their productivity.
A primary estimation said more than 14 percent of the province's farmland, or 670,000 hectares, has been decimated in the earthquake, which has severely hampered grain production there-Sichuan contributed 6 percent of China's grain output last year.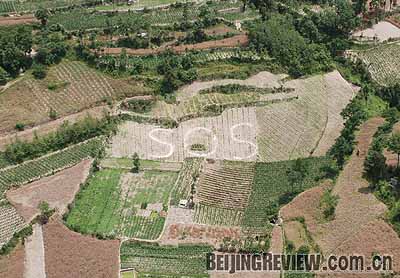 AGRICULTURAL WOES: Grain production in Sichuan will shrink as more than 14 percent of farmland was destroyed in the earthquake
Rice production will be hardest hit, said Xie Gang, a researcher with Sinolink Securities Co. Ltd., because water conservation facilities were damaged. Sichuan ranks fifth in terms of rice production in China, and it was estimated about 100,000 hectares of paddy fields have to be changed to dryland farming because of inadequate irrigation capabilities.
"If grain production shrinks in Sichuan this year, it will affect the supply within the province and even nationwide," said Xie. "We predict that the rice price will increase within the province, and therefore it is very likely that rice prices will go up in the domestic market as a whole. "