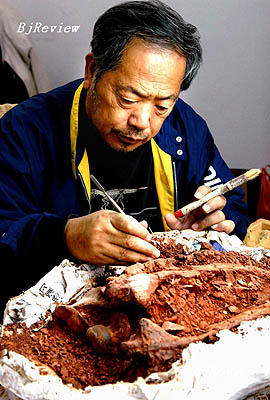 A villager's accidental discovery four years ago has made known to the world a rich mine of dinosaur fossils in Ruyang County, central China's Henan Province. At the same time, the fate of the small village has been changed.
Li Chui, a farmer in Shaping Village, thought he had found bones of a "dragon" when he dug up stones for his new house on an April morning in 2005.
Local residents had used the calcium-rich "dragon bones" as an ingredient in traditional medicine for decades. They either boiled them in soup to treat conditions such as dizziness or leg cramps, or ground them down into a paste and applied it to fractures and other injuries.
Those "dragon bones" were sold at about 1.4 yuan, or $0.2, per kg in the area, and were the only income besides the average 1,500 yuan ($214) local farmers reaped from the land every year.
Imagining he might make a fortune from them, Li told Cao Xiyun, an 85-year-old "dragon bone" dealer, about his discovery. Cao, who had suspected for years that the bones he collected could belong to some particular ancient animal, reported the finding to the Beijing-based Institute of Vertebrate Paleontology and Paleoanthropology of the Chinese Academy of Sciences.
Scientists led by Dong Zhiming, a dinosaur expert with the institute who has been responsible for naming a number of dinosaurs in China, spent two years unearthing and cleaning the bones. They concluded that the bones belong to Asia's tallest and heaviest dinosaur that lived 85 million to 100 million years ago. They named it the "Yellow River Dinosaur."
The excavation team also spotted more than 30 dinosaur fossil-rich sites in Liudian Town and Santun Town in Ruyang, said Dong at a press conference to release the latest paleontological findings last July.
Realizing how dear these bones were, local farmers dreamed of establishing a dinosaur-themed geopark there to attract tourists and develop the local economy. The proposal to establish such a geopark was finally approved by an assessment committee organized by the Henan Provincial Government at the end of 2007.
Research value
Measuring 18 meters from head to tail, the Yellow River Dinosaur lived in the early Cretaceous Period, unlike other dinosaurs inhabiting in China, such as those in Zigong, Sichuan Province. It was an exciting discovery for reseachers as it filled a gap in China's dinosaur studies.
Another large sauropod dinosaur skeleton was unearthed in Hongling Village in the same county on December 21, 2007. Experts with the excavation team believe the discovery of dinosaur fossils in Ruyang has important research value for the study of the huge, sauropod dinosaurs' distribution, migration patterns and evolution.
In 1993, large quantities of fossilated dinosaur eggs were discovered in Xixia County, about 200 km away from Ruyang. "It's a great discovery," said David Hone, a British paleontologist who works in Germany. "Dinosaur eggs and dinosaur skeletons were excavated successively in Henan, which will make the province a valuable spot in the global dinosaur research landscape."
But, as the practice of using "dragon bones" as medicine had been going on for at least two decades, Hone warned that "thousands, perhaps millions, of amazing specimens have probably been destroyed over the years," based on the quality, number and age of the discoveries.
According to Dong, the excavation team only excavated 40 percent of the fossil remains of the Yellow River Dinosaur in Shaping.
"I feel awfully sorry about it," said Cao when he knew the "dragon bones" were such a precious natural legacy and learned that the fossilated bones have no healing power. He estimated that he had sold several thousand kg of "dragon bones" over the decades.
Cao, a former primary school teacher, had suspected these bones were ancient animal fossils and wrote to the Institute of Vertebrate Paleontology and Paleoanthropology of the Chinese Academy of Sciences in 1989. Dr. Lu Junchang, Dong's student and a researcher with the institute travelled to Ruyang to collect fossils in 1989, 1991 and 1993. As he was engaged in the excavation of dinosaur fossils in northwest China's Xinjiang Uygur Autonomous Region at that time, further research in Ruyang was postponed.
Thanks to Li's discovery, officials with the Henan Provincial Geological Museum decided to try their luck and organized a team of experts headed by Dong and Lu in November 2005. The excavation formally kicked off at the end of February 2006.
After two years' excavation, experts confirmed that there were at least 10 species of dinosaurs in the Ruyang and Luanchuan fossil-rich sites, including the world's smallest oviraptor less than 0.6 meters long, and named three new species found in China.
Economic benefits
Ruyang is a state-level poverty-stricken county. When villagers found out the bones were from dinosaurs, they donated 7,000 yuan (nearly $800 then) to Dong and his colleagues for research, and helped them with the excavation work, hoping that the fossils would change their lives.
When the Henan Provincial Geological Museum announced plans to transport the fossils to the capital city of Zhengzhou for further research, local residents hid two packs of the fossils and refused to turn them over even when the police became involved.
The excavation of the giant dinosaur skeleton had once enkindled their dreams for a better life, but the humble dream was quenched-seven villagers who were entrusted with the task of protecting dinosaur fossils were arrested and sentenced to 6-12 months in prison for "interference with state functions" last November.
"We are so scared of poverty," said villager Liu Shengjie. "We thought the dinosaur was a blessing and would attract tourists, but it turned out to be a curse."
Zhao Wanquan, an official of Liudian Town, couldn't understand the situation either.
"We hope to keep these fossils and run a conservation program funded by the government so as to promote local economic development, just like what has happened in Xixia," Zhao said.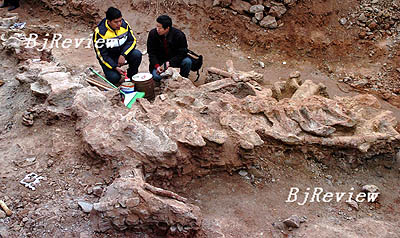 Dr. Xu Li, Deputy Curator of the Henan Provincial Geological Museum, said they moved the fossils to the museum to ensure better research results, but she admitted that her museum needed the dinosaur skeleton of high research value to unveil a new exhibition hall.
The biggest wish of local farmers was to build a museum or a geopark to benefit the local economy. According to Dong, there are three conditions to meet for building a dinosaur-themed geopark: rich fossil resources, convenient traffic and ample research results.
"It's not good timing because the number of fossils excavated and the excavation area are far from enough in this county," said Dong.
The national dinosaur geopark near the Liujia Gorge in Gansu Province, for example, has met difficulties in dinosaur footprint fossil protection recently, due to a lack of funding and inconvenient traffic, according to a China News report.
The geopark could only be reached via waterway. A round trip to the geopark from the Liujia Gorge costs 600 yuan ($86), while the admission ticket is 40 yuan ($5.7). Of the 20,000 tourists the park received last year, the majority were guests hosted by the local government who did not buy tickets. Some unearthed footprints in the park are now in danger of being damaged due to the effect of weathering, said the report.
However, Chen Jing, a history and culture expert with Nanjing University, contended that on-the-spot protection of paleontologic relics is international practice.
"Damage is inevitable once the fossils are moved elsewhere," said Chen. "The significance of dinosaur fossil excavation lies with its research value and it would be an ideal choice if the fossils helped to increase the income of local residents while serving research purposes."
The good news is that approval from the Henan Provincial Government for a project to establish a geopark in Ruyang is under deliberation. The project, aimed at "active protection and rational development," is expected to benefit the local environment and economy.