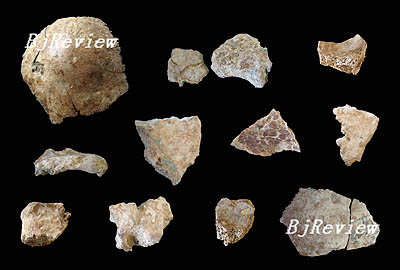 "At the beginning when the top of the skull was unearthed, we felt it was unlike an animal bone fossil. It was not until we saw the suture in the skull that we identified it as a human skull," recalled Li Zhanyang, an archaeologist with the Henan Cultural Relics and Archaeology Research Institute, who led the excavation in Xuchang County, Henan Province.
On January 22, 2008, Chinese archaeologists announced that they found a nearly complete human skull fossil dating back about 100,000 years in Henan in December 2007. The fossil may solve the mystery of the origins of the Chinese people.
The ancient skull was named Xuchang Man after the location, following the tradition of naming Peking Man and Upper Cave Man. Scientists said that the discovery was expected to provide direct evidence for the origins of modern Chinese and East Asian human species.
The site, located 15 km from Xuchang, is known for large amount of animal fossils and stone artifacts found in 1965.
In June 2005, after groundwater at the Paleolithic location dried up, archaeologists started excavating the site again and unearthed about 30,000 more animal fossils and artifacts.
On December 17, 2007, they found a fossil consisting of 16 pieces of a human skull with protruding eyebrows and a small forehead, which can be reconstructed as an intact human skull.
The skull contained a rare fossilized membrane that archaeologists hope will reveal important details about the nervous system of human being from the era and settle a long academic debate about whether the majority of China's 1.3 billion population are mainly indigenous or descended from African migrants.
"It is the greatest discovery in China after the Peking Man and Upper Cave Man skull fossils were found in Beijing early last century, and will shed light on a critical period of human evolution," Shan Jixiang, Director of the State Administration of Cultural Heritage ,told Xinhua News Agency, the biggest state-owned news service provider in China.
The find of Xuchang Man was second in importance only to that of Peking Man, discovered in 1929, when archeologists discovered five almost complete skulls and other bones believed to date back 250,000 to 500,000 years. The 10,000 to 40,000-year-old fossils of Upper Cave Man were unearthed in Beijing in 1933.
In 1964, China found the female skull fossils of Lantian Man that dates back 800,000 years. In 1984 the country made two more archeological discoveries: the 2-million-year-old fossils of Wushan Man and of Jinniushan Man, who lived 100,000 to 200,000 years ago.
After the find of the Xuchang Man skull, archaeologists brought the 16 fragments to the Chinese Academy of Sciences in Beijing. The skull was examined by dozens of respected anthropologists with optically stimulated luminescence dating technology and a consensus was reached that the skull dates back 80,000 to 100,000 years, from the Late Pleistocene of the Quaternary in China.
"When we started digging on this site, we expected to find something important, but not this important," noted Li, who led the excavation, adding that when the team discovered the skull they were thrilled and couldn't believe it.
Li said that although Xuchang Man was not as old as other discoveries, the skull could "fill a huge gap in our knowledge of human evolution."
In paleoanthropology, there are currently two accounts of the origin of anatomically modern humans, or Homo sapiens: the recent single-origin hypothesis (RSOH) and the multi-regional hypothesis.
According to the RSOH, anatomically modern humans evolved in Africa between 200,000 and 100,000 years ago, with members of one branch leaving Africa around 60,000 years ago. The theory asserts that Peking Man died out about 200,000 years ago in China, so the ancestors of modern Chinese people came from Africa.
The multiregional hypothesis advocates multi-area evolution and interbreeding. Many Chinese scientists argue that regional continuity existed, with the most significant proof in their hands being Wushan Man (2 million years old), Lantian Man (1.5 million years ago), Peking Man (250,000-500,000 years ago), Jinniushan Man (100,000-200,000 years ago) and Upper Cave Man (10,000-40,000 years old). These ancient men help to comprise evidence for a nearly complete evolutionary theory, but lacked one important link: human fossils dating back 50,000 to 100,000 years. Now Xuchang Man will fill the blank.
The Xuchang Man find also attracted international attention. "This is a crucial period in human evolutionary history, but we know almost nothing about it. Anything coming from that period is of great interest to the outside world," Dennis Etler, a palaeoanthropologist at Cabrillo College in California was quoted as saying by The Guardian. "This sounds like a breakthrough."
Li and his team want to excavate further at the site in the hope of finding evidence of how ancient Asians used fire and built dwellings. They have found fragments of charred animals bones, which has led them to believe that China's ancestors cooked meat at an early stage.