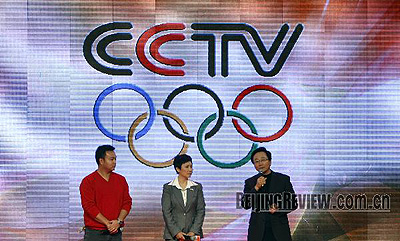 Jiang Heping, CCTV Sports Executive Director, has been making full preparations to cover the 2008 Beijing Olympics ever since CCTV-5, the country's major sport channel, became a 24-hour Olympic Channel on January 1 this year.
"We work over 12 hours every day now, and will surely not be able to enjoy even one contest peacefully during the Games," said Jiang.
According to the company's plan, the channel will launch a 40-minute program to cover the Olympic Torch Relay every day from March 24, focusing on activities held around the torch relay venues overseas and on Mount Qomolangma.
It will be a record in television history when the channel broadcasts the entire torch relay, which encompasses 21 cities overseas and 113 cities domestically, said Jiang. The move, however, indicates that the Olympic Channel, the strongest sporting media in China, is marching toward the international market. Nevertheless, the channel should be propped up by qualified personnel, a problem the company is dealing with.
A simple example: the sports channel is scheduled to cover the Olympic torch relay on Qomolangma during the first two weeks in May. The activity requires reporters to climb the world's highest mountain to interview people and photograph the venues. But who will be the anchor and who the photographer remains unknown yet.
It would be a grim test for anyone conducting interviews and photographing at 8,844.43 meters, and there is at present no CCTV anchor with that kind of climbing experience. But Jiang disclosed that some students at the Tibetan Climbing School have been training in terms of TV photography in Beijing, and the photographers for the event are expected to emerge from among them.
In accordance with CCTV's overall plan, other CCTV channels and digital TV channels will cooperate with CCTV-5 to meet the different demands of viewers. CCTV-1 will concentrate on coverage of the panoramic scene related to the Games in Beijing, and CCTV-2 will focus on international competitions that have drawn the attention of the Chinese audience.
For the sports channel, the most arduous tasks will be during the Games, starting August 8 and closing on August 24, when 28 events will be broadcast. In addition to the important opening ceremony, the channel will relay all the events live, including on-the-spot reports in 30 fields and stadiums, and live comments and narrations in 18 locales.
"This is a huge platform that requires us to attract outstanding anchors and commentators, to form a national team," said Jiang.
Chinese sports commentators have recently been embroiled in dispute. The old generation of narrators, Song Shixiong for instance, was well received by audience in 1980s. In the mid-1990s, a new generation of commentators -- represented by Zhang Bin, Huang Jianxiang and Liu Jianhong -- came into prominence, forming a professional cadre, as it were. Then Huang resigned after losing his cool during a live broadcast of the Italy-Australia World Cup match in Germany, in 2006. And Zhang has not appeared on TV since the beginning of this year.
"Who will chair and commentate on the 2008 Beijing Olympic Games remains uncertain," affirmed Jiang. "In spite of this, Song, Wang Taixin in Guangdong Province, and Jin Baocheng in Zhejiang Province, are surely candidates."
He added that Bai Yansong and Shen Bing, two noted anchors at CCTV, would also be likely anchors.
"There are some restrictions for choosing anchors to chair the big events, because they should not only be capable talents, but also have a decent image," he added.
CCTV-5 was officially renamed the CCTV Olympic Channel for the period between January 1 and September 30, 2008, the first time in history that a channel has been renamed for nearly ten months. The idea was put forward in 2006, and was supported by higher authorities.
The Olympic Channel will mainly broadcast competitions participated in by Chinese athletes, including shooting, gymnastics, table tennis, track and field, swimming, fencing, football, basketball, and volleyball. Every day, after the live broadcasts, the Olympic Channel plans to air an additional program in which outstanding athletes will participate, and be congratulated once more at the "second venue," or the "honorable palace" created by the program. Every morning the sports channel will relay a program -- Good Morning Olympics -- that will cover the highlights of the previous day's competitions, and introduce that day's contests.
In addition, the company purchased the broadcasting rights for several non-Olympic competitions this year, including the World Snooker China Open in March and the European Football Championship in June.
"What is worth mentioning is that European Football Championship is easier to broadcast, because the matches usually happen after midnight, changing the 'trash time' into prime time for nearly a month," said Jiang.
Furthermore, the World Table Tennis Championship to be held in southern China's Guangzhou Province is likely to attract a higher number of TV viewers, judging from the fact that viewership reached 4.55 percent when the competition was held in Shanghai in 2005.
CCTV-5, covering the entire nation through the Asia-Pacific-1A Satellite, has seen rapid development since its launch in 1995. At the time of its first restructuring, its advertising income stood at 4.5 million yuan, as opposed to the 15 million yuan expenditure to produce programs. It concentrated on recorded broadcasts, and its broadcasting time lasted less than 10 hours a day.
In 2001, the channel restructured its set program numbers from 34 to 17, but the broadcast time was expanded to 15 hours. Its third restructuring was in September 2005. The broadcast time was expanded to 24 hours a day, with its new programs highlighting sports contests, 150-minute news and program arrangements.
The three-time restructuring enabled its TV viewing rating to rise from 1.1759 percent in 2003, to 2.10 percent in 2007. The consequent changes were in terms of revenue from advertisement, which hit 800 million yuan in 2004, and 500 million yuan in the one-month FIFA World Cup in 2006.
Currently, advertising income has become an important source for the channel, and it now occupies 80 percent of sports channel shares nationwide.
It's not difficult to ascertain the Olympic Channel's prospects after its fourth restructuring this year.
(Source: China Business News)