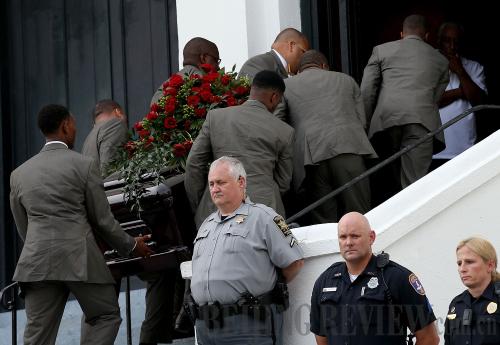 Pallbearers carry the casket of Rev. Clementa Pinckney into a memorial service at the AME Emanuel Church in Charleston, South Carolina, on June 25 (XINHUA)
History is written by the victors, they say, and one man's terrorist is another's freedom fighter--but there can be no doubt that racial violence has no place in America today, and the outcry that followed the massacre of nine churchgoersin a historic black church in Charleston, South Carolina, on June 17 is a testament that evil has no home here.
But look above the capitol of South Carolina, and you will see a different message, a tribute to an extinct way of life that exploited and brutalized an entire population of people based on their skin color. Five days after the shooting in the AME Emanuel Church, South Carolina Governor Nikki Haley called a press conference to call for the removal of the Confederate Flag--the symbol of the Southern forces in the American Civil war--and yet it remains locked in place.
Bree Newsome, a young activist from Charlotte, North Carolina, could not take another second. She climbed the flagpole herself and tore the flag down, before being charged with defacing monuments. The flag was raised again 45 minutes later.
Even President Barack Obama called to remove the flag from state grounds, saying it was a symbol that belonged in a museum. Retail stores Wal-Mart and Sears have pledged to remove the image from their shelves. Yet in any gas station or country store, primarily in the South, the image is everywhere--a reminder of the war against slavery and the remnants of the racial injustice still prevalent today.
Even the staunchest opponents have begun to question their stance on this symbol. State Senator Paul Thurmond, a Republican who is a son of segregationist leader Strom Thurmond, had intended to renew his past defenses of flying the Confederate flag. It was not a time to politicize a tragedy, he thought. But while attending a service at the Morris Brown AME Church in Charleston, as the pastor asked everyone to hold hands and squeeze tight to "show that you care about the people next to you," Thurmond said he could not stop thinking of the symbolism the flag entailed.
"I found myself trying to defend it, as everyone does," Thurmond told The New York Times. "How do you defend it? And I just flat-out couldn't."
On social media, those who defended the symbol of the Confederacy were labeled racists, compared to white supremacists and told that their views had no place in modern society. Rather than respond en masse with a protest on the state capitol steps, opponents of the flag rallied on social media.
On Twitter, 77 percent of those mentioning the issue favored the flag's removal, 20 percent expressed neutrality and 3 percent defended its place on the capitol grounds, according to Two.42 solutions, a company that analyzes data and opinion. Bree Newsome was lauded as a modern Rosa Parks, as she quoted a Bible verse shouting, "Who should I fear?" as she was being hauled off to jail.
Do symbols like the Confederate flag matter? Yes, of course they do. And when those symbols are on government land--the 10 Commandments outside a courthouse, a confederate flag above a capitol--it speaks for the voice of the government. Those symbols of exclusion should be erased in a government for all of the people.
Symbolic actions are only the first step in eradicating institutionalized racism, but they are necessary to pave the way for concrete change. When these intolerances become unacceptable, the real conversation on race can begin.
Proponents of flying the confederate flag defend it as saying the past is ancient history, and the flag stands for tradition and remembrance, not hate. If young men like the one who shot nine innocent people in South Carolina hadn't taken up that flag as the symbol for their cause, it might be easier to defend. It is a symbol that stands for racial violence as much today as it ever did – and it has no place flying above a state capitol.
The author is a contributing writer to Beijing Review, living in New York City