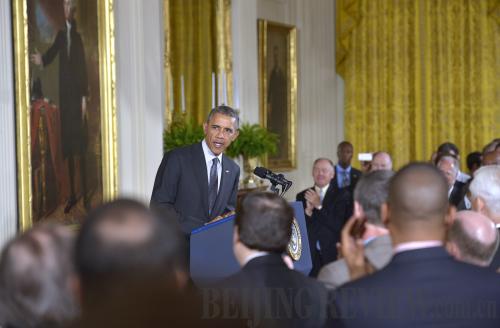 Barack Obama speaks in the White House before signing into law two bills giving him greater authority to negotiate trade deals with foreign countries on June 29 (XINHUA)
Who's the "lame duck" now? With two major wins in the Supreme Court and his trade deal intact, President Barack Obama has been having what many call the best week of his presidency. The Supreme Court upheld the Affordable Care Act for the second time in three years on June 25, the court legalized same-sex marriage in all 50 states on June 26, and the president's moving eulogy at the funeral for Rev. Clementa Pinckney on June 26 was lauded as a historic address addressing racial hatred and the call for peace. Even his singing voice, as he led the hymn of "Amazing Grace", was praised as angelic.
Obama's enemies were his allies this week. Conservative Chief Justice John Roberts again found himself as the key savior of Obamacare as he read the majority opinion preserving federal tax subsidies. The Republican Party, as well, is credited with reviving Obama's pet trade deal after its defeat in Congress with a new legislative strategy to divide the contentious bill and pass it in two parts. Progressive Democrats are staking their opposition to the Trans-Pacific Partnership free trade deal that the Obama administration is negotiating with a dozen countries.
"Of course, we still have more work to do on behalf of our workers, which is why I'll continue to encourage Congress to pass robust trade enforcement legislation that will help us crack down on countries that break the rules," Obama said in his statement on June 25. "But this week's votes represent a much-needed win for hardworking American families."
It was a week that cemented Obama's legacy. His role as the nation's first African-American president is already historic, but this week ensures that his role in reforming healthcare, building international trade alliances and leading the call for racial and social justice would be remembered. The president's tone seemed to shift this week, as if he realized these moments would be preserved in the history books.
"That's when America soars, when we look out for one another and we take care of each other, when we root for one another's success, when we strive to do better and to be better than the generation that came before us and try to build something better for generations to come," Obama said on June 25, praising the Supreme Court's decision on healthcare.
"That's why we do what we do. That's the whole point of public service," he said, gesturing to Vice President Joe Biden who was standing beside him.
The Supreme Court also took a moment to strike down any state bans on same-sex marriages, making it legal in all 50 states. As the first president to publically support gay rights, the decision was a big win for Obama. Americans' view on gay marriage has shifted, Obama acknowledged, and the once-taboo topic has become accepted by the majority.
"Progress on this journey often comes in small increments. Sometimes two steps forward, one step back, propelled by the persistent effort of dedicated citizens. And then sometimes there's days like this, when that slow, steady effort is rewarded with justice that arrives like a thunderbolt," Obama said on June 26.
The president was at his best at the funeral for Rev. Pinckney, gunned down by a white supremacist in what many call an act of domestic terrorism. Race has surrounded the presidency since Obama's election, and the presidential address was an impassioned plea for all Americans to step beyond hate. Before an audience of 6,000 and a worldwide television audience, Obama used the moment to again call for reform of gun control laws and to remove the Confederate battle flag from the grounds of government offices in South Carolina. The 40-minute address placed the shootings into a longer history of violence against black churches and systemic violence against black Americans. He then led the audience in a verse of "Amazing Grace," healing hearts and inspiring a moment of unity.
"Maybe we now realize the way racial bias can infect us even when we don't realize it," Obama said. "So that we're guarding against not just racial slurs, but we're also guarding against the subtle impulse to call Johnny back for a job interview, but not Jamal. So that we search our hearts when we consider laws to make it harder for some of our fellow citizens to vote." By treating every child as important regardless of skin color and by opening up opportunities for all Americans, Obama said, "We express God's grace."
As he enters the final laps of his presidency, Obama seems to feel the freedom to say and do what his heart tells him--rather than what polling numbers and reelection strategies dictate. It's a more relaxed president than the one we have seen shoulder the burdens of two wars, a devastating economic recession, and years of political stagnation. For all those who considered him dead in the water following the sweeping midterm losses by Democrats in the last elections, it seems the president is back from the dead.
The author is a contributing writer to Beijing Review, living in New York City