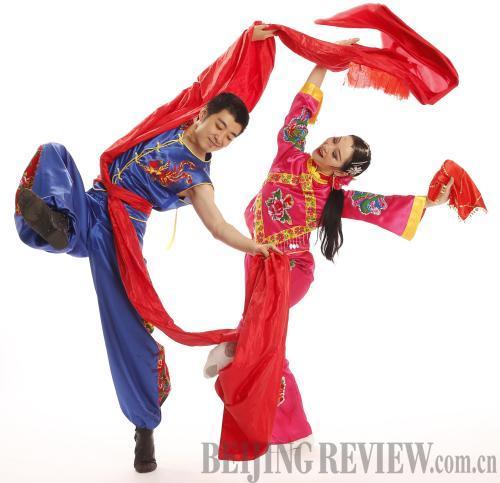 (COURTESY OF THE NAI-NI CHEN DANCE COMPANY)
The Nai-Ni Chen Dance Company ushered in the Chinese lunar New Year celebrating the gentle Year of the Sheep with a thrilling display of artistry Sunday, January 25 at the Brooklyn Center for the Performance Arts.
Troupe founder Nai-Ni Chen is a contemporary choreographer based in Fort Lee, New Jersey, and she has lived in the United States for over 30 years. Since 1988, Chen has created a wide-ranging repertory that includes dances that originated thousands of years ago as well as modern creations.
This year, aside from festival programs featuring professional Chinese-American artists in the New York area, the company will be joined by two international groups from Beijing, sponsored by the Ministry of Culture of China for the Chinese lunar New Year.
"We want to introduce the beauty and diversity of Chinese arts to the public in New York through high quality performance," Chen says.
The Year of the Sheep program begins the celebration with the Dragon Dance and Lion Dance, symbolizing the coming of the spring and the Chinese people's prayer for peace. The troupe then performed three other dances based on cultures from different regions of China to celebrate the diversity of Chinese folk culture. A harvest dance from Shandong Province -- Gu Zi Yang Ge – electrified the audience with its high energy, drum beat and extensive use of angular, strong movement with props. "Festival," a traditional folk dance from central China followed with fantastic use of ribbons and explosive energy.
The troupe also debuted the first international performance of traditional Chinese "bamboo rap." Renowned artist Ma Xingye performed Kuaiban -- a form of Chinese rap that was developed in China during the 1930s and 40s. The performer recites a rhythmic poem as he claps out a beat with a set of bamboo plates.
"I hope New York people can feel the beautiful rhythm of Chinese language," says Ma.
The Nai-Ni Chen Dance Troupe will next perform Year of the Sheep in a series of New Year's-themed school performances around the New York and New Jersey area, and a public performance at the New Jersey Performing Arts Center on February 7.
"It's all very celebratory," Chen says, "So I think the audience will enjoy it."
(Reporting from New York City)