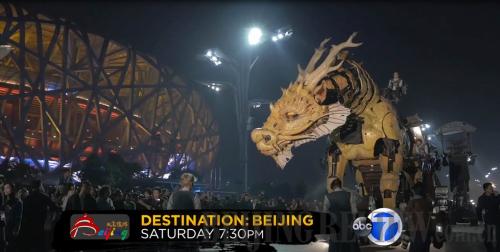 Screenshot of the weekend special program of the tourism board Visit Beijing on ABC7-WABC television New York (FILE)
New Yorkers are seeing a lot of China's capital right now. Tourism board Visit Beijing on December 20 launched a new tourism promotion drive on WABC television New York, as well as via the WABC website. Ads will also be displayed on New York City taxis during the Christmas season. 
The new campaign consists of a series of 30-minute episodes highlighting the attractions of Beijing and aims to encourage more American tourists to the city. The first episode of Visit Beijing was a general introduction to the capital — entitled Beijing: A Modern City With An Imperial Past. The promotional series will introduce Beijing's 72-hour of visa-free transit policy, show off some of the beautiful aspects of Beijing's scenery and motivate New Yorkers to see the city for themselves with sightseeing tours and to learn more about culture in China.
The New York area was chosen as a launching point because it has more China-bound tourists than any other U.S. city, say organizers. Viewers of Beijing: A Modern City with an Imperial Past, will get a chance to virtually "tour" unique Beijing cultural spots, including the Forbidden City, the Palace Museum and the historical cultural lanes of Hutong districts.
According to information from the Sino-American Culture & Arts Foundation, subsequent episodes of the series will be aired throughout 2015. The new promotional campaign is substantially important as it broadens the horizon of attracting American tourists to China by targeting a general audience rather than just those within the travel industry.  
(Reporting from New York City)