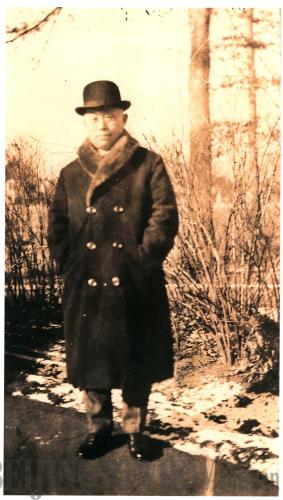 Kuo Ping Wen (FILE)
In 1914, Kuo Ping Wen received his Ph.D. from Teachers College of Columbia University, becoming the first Chinese national to do so. Kuo successfully defended his dissertation, entitled The Chinese System of Public Education, which was one of the first in-depth analyses of the entire Chinese educational sector at that time. In honor of this centennial anniversary, Teachers College hosted a symposium dedicated to Kuo, "In Service of Education: The Life and Times of Kuo Ping Wen, China's First Global Educator," on October 25.
Kuo's accolades do not stop at his Ph.D., as he is an important figure for Chinese educational development and for U.S.-China relations. He was quite influential in the tumultuous era in China after the fall of the Qing Dynasty (1644-1911). He helped to transform Nanjing Higher Normal School in Jiangsu Province into National Southeast University, which laid the foundations for both Southeast University and Nanjing University.
Kuo, along with John Dewey, Hu Shih, and Paul Monroe, also founded the China Institute in 1926, a New York-based non-governmental organization (NGO) with a mission to "advance a deeper understanding of China."
Today, the institute remains an important intercultural connecter between China and the United States. Upon leaving the institute, Kuo became a renowned statesman, playing an active role at the Bretton Woods Conference in 1944 and later serving as deputy director of United Nations Relief Rehabilitation Administration (UNRRA), among other diplomatic roles.
The symposium was conceived by Kuo's great-grandniece Carolyn Hsu-Balcer, and was co-sponsored by Teachers College, the C.V. Starr East Asian Library at Columbia University, and the China Institute.
The Department of International and Transcultural Studies of Teachers College published a biographical book for the symposium, entitled Kuo Ping Wen: Scholar, Statesmen, and Reformer. The publication, co-edited by Ryan Allen and Ji Liu of Teachers College, brought together scholars from both China and the U.S. to celebrate the life of Kuo. The book will be available to the public for purchase and a Chinese language edition is in the works.       
"The book is the joint effort of five scholars from different disciplines. They, like the students who worked tirelessly to assemble the book and organize the symposium, were inspired by the life and works of my great-granduncle," wrote Hsu-Balcer, whom was the driving force behind the entire symposium. "My hope is that the reader of these essays will be similarly inspired to support education and understanding in the spirit of the values exemplified by Kuo Ping Wen."
The other book contributors come from distinguished backgrounds and institutions: York Lo, Associate in Research, Fairbank Center for Chinese Studies, Harvard University; David Gedalecia, Michael O. Fisher Professor of History, College of Wooster; Huimei Zhou, Lecturer of Modern History, Faculty of Education, Beijing Normal University; Gita Steiner-Khamsi, Professor of International and Comparative Education and Chair of the Department of International and Transcultural Studies, Teachers College; Yechun Song, Associate Professor of Higher Education Administration, Southeast University; and Yanqiu Zheng, Ph.D. candidate in Modern Chinese History, Northwestern University.
Kuo's legacy
When Kuo first came to study in the United States, first at Wooster College and then at Teachers College, there were only hundreds of Chinese nationals studying throughout the U.S., mostly coming from elite families or Christian missionary programs.