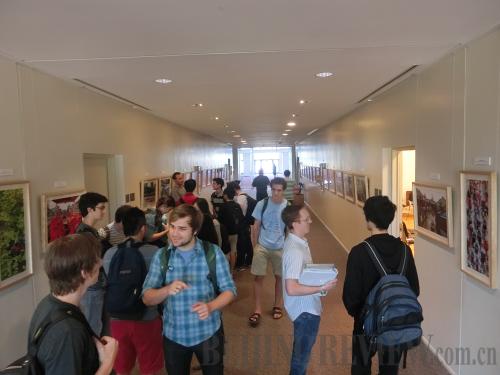 THE ALLURE OF SHANGHAI: Visitors at a five-day photo exhibition on Shanghai held in the Rice University in Houston on October 23 (COURTESY OF THE INFORMATION OFFICE OF SHANGHAI MUNICIPALITY)
The Amazing Shanghai Exhibit kicked off in Houston on October 23.
Sponsored by the Information Office of Shanghai Municipality, the five-day exhibit features the Amazing Shanghai Pavilion, which will be erected for five days in the Houston Galleria, as well as a photo exhibit displayed at Rice University and a book donation to Houston Public Library System.
"Houston and Shanghai have built a strong, flexible and modern partnership based on dynamic business centers and thriving cultural capitals," Houston Mayor Annise Parker said through a news release from the Mayor Office.
She announced the signing of a Memorandum of Understanding (MoU) with Shanghai officials on October 20, according to the official website for Houston. The MoU is an agreement to display promotional videos from each of the partner cities for a year at strategic locations and on social media.
The MoU comes just as executives from the Information Office of Shanghai Municipality, Houston First, Rice University, Houston Independent School District and Simon Group embark on a new chapter to encourage joint city promotion through the opening of the Amazing Shanghai Exhibit in Houston, the release indicated.
"Houston offers business communities that are substantially interconnected, leading ports that are open to international trade, centers of learning for students from all over the world, yet there is more we can do to make our citizens aware of the tremendous opportunities each city offers the other." Mayor Parker added.
The city of Houston commends Houston First, Rice University, Simon Group, Sueba, Byejoe, Houston Trade Center and Sun Wholesalers for their support of this cultural exhibit that displays the exciting connections between Houston and Shanghai.