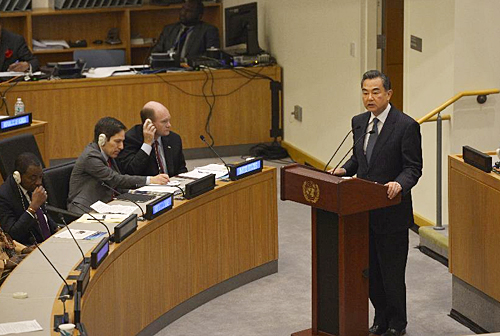 Chinese Foreign Minister Wang Yi addresses the UN High-Level Meeting on Response to Ebola Virus Disease Outbreak in New York City on September 25 (XINHUA)
Chinese people will always stand beside the African people in the fight against Ebola, Foreign Minister Wang Yi said on September 25 in New York City, when addressing the UN High-Level Meeting on Response to Ebola Virus Disease Outbreak.
Wang said that the epidemic may be merciless, but people with love for their fellow man always help one another in times of need.
Since the outbreak of the epidemic, China has in succession sent over 170 medical workers to affected areas to fight on the front line against the virus with local people. These workers work round the clock to help the inhabitants of Ebola-stricken communities.
The Chinese Government has also promptly provided drugs, medical equipment and other disease prevention and relief materials to Guinea, Liberia, Sierra Leone and Guinea-Bissau.
In August, China once again offered 30 million yuan ($4.83 million) worth of humanitarian assistance to Liberia, Sierra Leone and Guinea, which were delivered to the countries in question by air.
This month, President Xi Jinping decided to send an additional aid package totaling 200 million yuan in value, which comprises food, materials, equipment and cash, to relevant African countries while sums offered in cash assistance to the World Health Organization (WHO) and the African Union each respectively amounted to $2 million.
Two groups of mobile bio-safety laboratories sent by China have already arrived in Sierra Leone. Over 20 Chinese epidemic experts and more than 30 medical personnel from China are busy conducting lab testing and taking care of the suspected patients that have been placed under medical observation.
Wang Yi stressed that in responding to further needs of the affected areas, China will continue to provide additional assistance by sending high-level expert teams to the affected countries to share their experience of combating epidemics with their local counterparts.
He said the country also intends to work with the international community to train medical personnel for the affected countries, and to push for the establishment of treatment centers. China will also give priority to health cooperation under the framework of the Forum on China-Africa Cooperation to help improve the disease prevention and control systems of African countries.
According to a WHO report dated September 24, more than 2,900 people have been thus far killed by the current Ebola outbreak, with the overwhelming majority of the deaths taking place in the three Western African countries of Guinea, Liberia and Sierra Leone.
The WHO warned that unless Ebola control measures in West Africa are enhanced quickly, more than 20,000 people will have been infected by early November.
(Reporting from New York City)