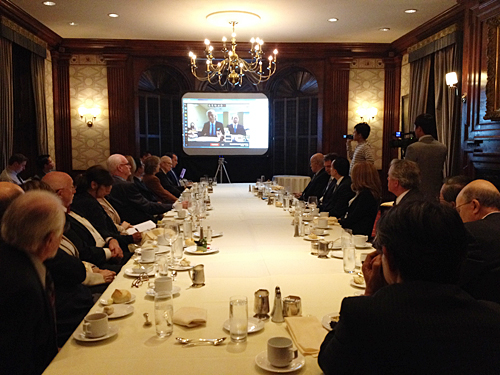 Boston Global Forum bring together more than twenty thought leaders from across the globe into an open forum to address the topic "Framework for Peace and Security in Pacific" in Boston, Massachusetts, on September 17 (HUANG WEI)
China needs to discover how to be a "smart power," by integrating soft power with hard power, said Joseph S. Nye, Jr., an American political scientist and former Dean of the John F. Kennedy School of Government at Harvard University, on September 17 in Boston, Massachusetts.
Nye made his remarks while attending a conference named "Framework for Peace & Security in the Pacific," as one of a series of open seminars entitled Boston Global Forum (BGF), initiated and presided by former Massachusetts governor Michael Dukakis.
Currently, some analysts warn that the rapid rise of new powers like China may create fear and uncertainty that could trigger regional conflicts. Against the backdrop of tensions in the South China Sea and East China Sea escalating in the first half of this year, some even see China as a super power eager to overthrow the established international order as its strength increases.
"Maintaining a stable security balance is not easy in such circumstances," Nye said, adding that there are limits to what hard power can achieve on its own. He suggested Chinese government combine soft power with its hard power as its development strategy in order to achieve its objects of international acceptance.
Joseph Nye is one of the foremost thinkers on international relations. His name is associated in particular with his meditations on the benefits and applications of power in its three incarnations: 'hard'—the influence obtained through the use of military and/or economic coercion; 'soft'—the ability to attract and co-opt rather than coerce; and 'smart'—the ability to combine hard power and soft power into a successful strategy.
(Reporting from Boston, Massachusetts)