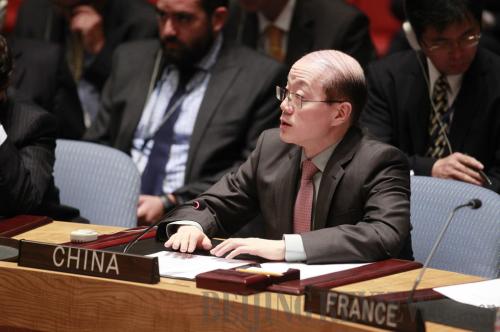 China's permanent representative to the UN Liu Jieyi expresses deep concern over the deteriorating humanitarian situation in eastern Ukraine at an emergency meeting of the UN Security Council on August 5 (COURTESY OF UN WEBSITE)
Ambassador Liu Jieyi, China's permanent representative to the United Nations (UN), called on the international community on August 5 to play a constructive role in easing the deteriorating humanitarian situation in eastern Ukraine.
He stressed that China is concerned by the civilian casualties resulting from the ongoing tension in some areas of the country and hoped that the UN humanitarian agencies would strictly abide by objective and neutral principles.
Liu made the remarks after John Ging, Operations Director of the UN Office for the Coordination of Humanitarian Affairs (OCHA), reported on the updated situation in Ukraine at an emergency meeting of the UN Security Council on the afternoon of August 5.
"The parties concerned should remain calm and restrained, increase dialogue and consultations on the basis of initiatives including the Geneva consensus, meet each other halfway, give full play to the role of the current dialogue and liaison mechanism, and seek a comprehensive settlement through peaceful means," said the ambassador.
He pointed out that there is an urgent need to engage in political consultation and comprehensive dialogue with a view to realizing a ceasefire as soon as possible.
"A political settlement of the Ukraine crisis should fully accommodate the legitimate claims of various regions and ethnic groups, so as to achieve a balance of their interests," he said.
The Chinese envoy called on the international community to do more to promote peace, dialogue and the creation of favorable conditions for the parties concerned to maintain dialogue and engagement.
According to Vincent Cochetel, spokesman of the UN High Commissioner for Refugees (UNHCR), 117,000 people are now displaced within Ukraine, while an estimated 168,000 people have crossed into Russia so far this year.
Further figures released by OCHA and UNHCR indicated that 740,000 civilians have fled to Russia since the beginning of 2014. That figure, significantly larger than 168,000, accounts for the majority of those who did not register their displacement with Russian immigrationofficials after crossing the border from Ukraine.
The recent military push by the Ukrainian armed forces to root out pro-Russian separatists near the eastern cities of Donetsk and Luhansk appears to be the driving force behind recent civilian displacements, with the UN estimating that the number of displaced persons from the two cities has increased from around 2,500 in early July to more than 100,000 by August 1, reported Talk Radio News Service, a Washington-based website.
The new frontline of fighting in urban centers is causing more hardship than past engagements in the countryside, Ging told the emergency meeting of the Security Council late on August 5.
(Reporting from New York City)