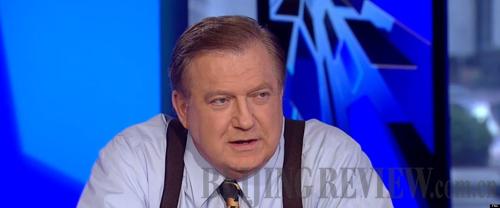 BE CAREFUL: Commentator Bob Beckel is under fire for using a racial slur on Chinese during a program The Five of Fox News on July 10 (FILE)
Fox News is known as a conservative political mouthpiece in America, but the latest comments by network commentator Bob Beckel go beyond the usual blabbering of paranoid drivel. Beckel is under fire for using the racial slur "Chinamen" during a July 10 rant in which he called the Chinese "the single biggest threat to national security of the U.S."
"As usual, we bring them over here and we teach a bunch of 'Chinamen' - er, Chinese people - how to do computers and then they go back to China and hack into us," Beckel said on an episode of The Five.
I'm not exactly sure how Americans teach Chinese to "do computers," but I assume Beckel is referencing the number of Chinese students coming to U.S. universities to study, alluding to the specter of cyber warfare that has emerged with the rise of the Internet.
As a firestorm of censure erupted, Beckel didn't exactly sound contrite.
"I made some comments last week about Chinese people which apparently upset some people, for which I apologize," Beckel said. "However, I do not apologize for things I've said about China and won't go into the litany of it now, because there are too many China apologists in this country."
"I will continue to warn the American people about how dangerous China is to the U.S. security and to our business community but to those who are offended, I apologize," he added. "But I will not apologize to the Chinese Government, or for their habits, or for their murders."
Beckel's comments have offended many viewers, as evidenced by postings from our Beijing Review Facebook community.
"Mr. Beckel is entitled to his personal views. However, his remarks should have been censored since such inappropriate comments are televised on public airwaves. Fox News is irresponsible for allowing this session to air or for not editing the session. The station should be fined by the FCC and Mr. Beckel should be disciplined or reprimanded by the television station," wrote Nanson Hwa.
"Well, Fox News ... This channel represents everything that is wrong with the United States at the moment," added a member with the username My New Life in Asia.
Follower Stuart Potangaroa said the Fox News program is "inciting hatred, manufacturing consent" and is "anti-American."
California state senator Ted Lieu, who is currently running for Congress, called on Beckel to resign immediately, saying his comments "have no place in America." It is the second time Beckel has used a derogatory term for Asians, after he said his eyes looked "Oriental" after a swim.
"I am one of those 'Chinamen' with 'Oriental' eyes that immigrated to America and majored in computer science," Lieu said. "I also served on active duty in the United States Air Force and continue to serve my country in the Reserves."
Let's look beyond the inflammatory and racist language Beckel used and look at the real offense. Beckel is fear mongering and stoking the xenophobia that too many Americans have about people from other countries. Unscrupulous political leaders use tactics of fear to maintain power over the public and increase control. Unscrupulous news stations use fear to keep viewers tuning in. The litany is repeated daily: undocumented Latino migrants are storming our borders, Muslim terrorists are targeting our children, and the Chinese want to turn us all into communists.
Why is it so easy to blame "the other" for our problems? What are the biggest threats to U.S. peace and security? Hackers? Or, how about income inequality? Muslims? Or, let's say, gun violence? It's easier to solve a problem like terrorist bombers than it is to solve a thorny issue like gun control. We can shut down our borders, or we can start to sort out the real threats to the American way of life.
"There are always such persons in the world. Their hearts are full of darkness, hatred and rubbish, they just don't know what they are doing," wrote Facebook community member Jason Bonne.
Maybe people like Beckel don't know what they are doing. At the very least, they may underestimate the damage that fear mongering does to the public. Sensationalist sound bites may build viewership, but they don't make a good news story.
If you're going to say something so inflammatory, you better have the data to back it up, Mr. Beckel. Racist opinions don't classify as "news."
The author is a columnist for Beijing Review living in New York City