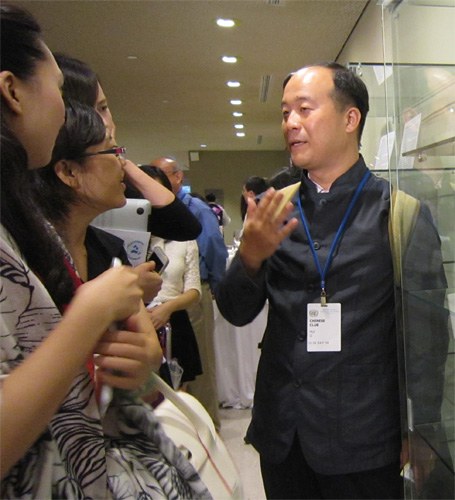 Hui Li, an anthropologist from Fudan University and lecturer who made the presentation on "Origin of Chinese People and Emergence of Chinese Civilization" prior to the exhibition's opening ceremony, introduces the exhibits to the audience (HUANG WEI)
2014 United Nations Hongshan Ancient Jade Exhibition was held in the UN headquarters in New York on July 15.
The exhibition, sponsored by UN SRC Chinese Book Club and Institute of Asian Ancient Civilizations, brings the best Hongshan jade articles out of 1,368 pieces of fine artifacts from 104 collectors in the United States, Canada, Australia, Japan, and others, all examined by 12 reputable Chinese archaeologists.
"This is definitely the largest and most complete collection of the Hongshan antiques, including various pieces of jade crafted during the Hongshan culture, which existed from 9,000 – 4,000 B.C.," said Xuejun Wen, president of UN Chinese Book Club.
"The purpose we bring this exhibit is to introduce Chinese jade culture to the UN community," Wen told Beijing Review. "The exhibition focuses entirely on jades of Hongshan culture, which is believed to be the origin of jade culture in both China and the world."
Hongshan culture was a Neolithic culture in northeastern China, which blossomed in what is now Liaoning Province and the eastern areas of Inner Mongolia, and dated from about 4,700 to 2,900 B.C. The culture is named after Hongshanhou, a site in Hongshan District of Chifeng, a prefecture-level city in north China's Inner Mongolia Autonomous Region.
"The earliest imperial mausoleums and temples appeared more than 5,000 years ago in the Hongshan culture," John D. Young, a jade expert in New Jersey, said during his lecture titled "Origin and Heritage of the Ritual Jade and Divine Jade and Their Impact on Body-Mind-Spirit Development" prior to the exhibition opening ceremony.
According to Young, the symbols for Chinese civilization, dragons and phoenixes made of jade, as well as many sacrificial vessels, can be traced back to nearly 9,000 years ago at the site of the Hongshan culture.
"Chinese people built and nurtured an intimate relationship with jade, and have the longest history of using it," said Young, adding that the Hongshan culture is the root of Chinese civilization, as well as the foundation of East Asian cultures.
From 2005 to 2009, these exhibits have been exhibited in 19 renowned public museums around the world.
(Reporting from New York City)