Clint Dempsey celebrates after scoring the fastest goal by an American in World Cup history and the fifth-quickest ever, putting Team USA ahead after 29 seconds of its opener against Ghana on June 16 (SOHU)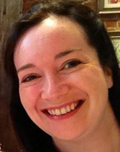 With the win of Team USA over Team Ghana on June 16, New York has definitely come down with a case of World Cup Fever.
The weather is amazing. The long miserable days of winter are forgotten. Crowds spill out of neighborhood bars onto the streets, full of young professionals able to leave work early on a Monday night to catch the 6 p.m. kickoff.
Earlier in the weekend, I had taken a walk through a neighborhood in the borough of Queens, while Columbia played Greece. New York is a cornucopia of cultures and nationalities. I passed three or four bars with overcapacity crowds waving Columbian flags and then turned a corner to find a block filled with Greek flags. Every day is a celebration of one of our City of Many Nations.
It's a quite a friendly match. The World Cup is a time when most Americans spend three weeks pretending to care about "football." We call it "football" only during the World Cup. For the rest of the year we call the game "soccer." We are not particularly good at it on a global standing.
Before Monday's kickoff between the U.S. team and Ghana, I talked to a number of my Brooklyn neighbors who said they didn't expect the U.S. to win and didn't particularly mind. A loss to Ghana was okay because we all had friends and coworkers from the country. We all belong in New York, and every match is a win for some New Yorker. My colleague Kwasi, an immigrant from Ghana, had flown down to Brazil a few days before to see the match and I had promised to root for Team Ghana in his support.
World Cup time always reminds me of 2002. I was living in Beijing when Team China qualified for the World Cup. I rooted for the Chinese team alongside my friends and neighbors. A win for them was a win for me.
Okay, so we didn't win—but we did have a good time. We sat outside neighborhoods bars in the warm nights of June, cheering on our favorites. Beijing, like New York, is full of people from all sorts of different countries. The result of globalization and increasing GDPs is a generation of global citizens, able to move between nations to pursue their dreams. Our major world cities are not melting pots of assimilation; they are a medley of diverse, harmonious cultures.
Sports are the great equalizer. A kid in any country—from any ethnic, educational, economic background—can become a star through raw talent and ambition. What's better than that? It's a dream of opportunity.
We're increasingly connected not only culturally, but also technologically. The best part of any modern global sporting event is the speed at which a funny comment can rocket around the world via social media. Sites like Instagram and Twitter create a superhighway of global comedy. My favorite video clips are of fan reactions to the U.S. win. Like this one from vine contributor HoustonDynamo: https://vine.co/v/MIjYt3uWp36
Fans also keep updating the Wikipedia entries of U.S. players like John Brooks:
No matter how far Team USA goes in the World Cup, we will find something to cheer about. It's a wonderful time to be in New York, celebrating every country in the World Cup—and the win of the nation to which we all belong.
The author is a columnist of Beijing Review, living in New York City