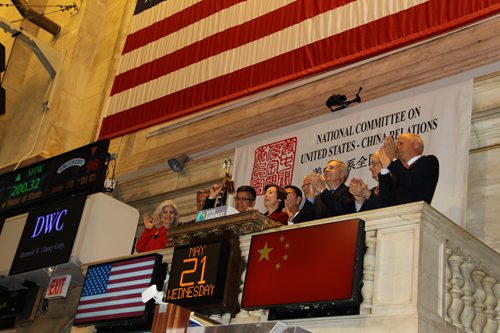 Five former US ambassadors to China and members of the National Committee on US-China Relations applaud after former ambassador Gary Locke (third from left) rings the closing bell at the New York Stock Exchange on May 21 (LI PING)
Looking back over 35 years of Sino-U.S. relations, five former U.S. ambassadors met May 21 at the New York Stock Exchange to share the highlights, and lowlights, of their terms.
Sponsored by the National Committee on United States-China Relations, the panel of ambassadors gave insights into the often contentious world of diplomacy and the moments in which their efforts made a real difference to the lives of billions.
"This panel brings back a flood of memories about every emotion you feel. The high point was arriving, for me, the low point was leaving, because it's the best job in the world," said Jon M. Huntsman, Jr., ambassador to China from 2009-2011 and 2012 presidential candidate. "There is a human dimension that is often overlooked that I think is quite extraordinary."
The ambassadors shared the responsibility of maintaining diplomatic ties throughout the 35 years of sometimes contentious bilateral relations. During incidents such as the 1999 U.S. bombing of the Chinese embassy in Belgrade, high-level state visits and navigating regional tensions, the ambassadors were charged with communicating U.S. policy and representing U.S. values.
"[Former Chinese President] Jiang Zemin made a statement that I've always remembered [and] that I think is a good one for the Sino-U.S. relationship. He said: 'Before you can have trust you have to have communications, and once you have communications you establish understanding, and then maybe you can build some trust,' " said Joseph W. Prueher, U.S. ambassador to China from 1999-2001. "It's a good thing to keep in mind as we move forward."
Looking ahead into the future of the Sino-U.S. ties, Huntsman said that ambassadors face difficulties maintaining a long-term relationship partially because of cultural differences. Americans think in terms of quarterly terms, he said, gesturing to the halls of the New York Stock Exchange, the foundation of the U.S. economy. Domestic politics have become extremely partisan and it has become difficult to find a "government bandwidth" to maintain long-term diplomatic goals.
"Presidential visits are no longer a positive, uplifting affair. They're always fraught with risk and difficulty. The expectations are always set by the media which are impossible to meet," Huntsman said. "It's about the point scoring – who's up, who's down; who wins and who loses – as opposed to the longer term strategic construct to maintain this most important relationship."
Despite the challenges, the ambassadors spoke on the impact they were able to make through diplomacy. Gary Locke, ambassador from 2011 until early 2014, was the first Chinese-American to serve in the post. He is credited with speeding up the visa application process for hundreds of thousands of qualified applicants.
"If it takes 70 to 100 days to get a [U.S.] visa a Chinese businessman is going to go to Canada, Germany or France. Or, if it's a tourist and it takes that long to get a visa interview with no guarantee of a visa they will have vacations in Australia or Europe. So, I really felt this was costing us American jobs," Locke said. "We really made an effort to speed up the visa process. People in the State Department said it couldn't be done … But, in the last few years the average wait time for a visa interview has been three to five days, even as demand has gone up 70 percent."
As a Chinese-American, Locke said his appointment became a symbol of the American dream. In America, "all things are possible," he said, and people of color have risen to high levels of all reaches of government, including the executive office of the president.
"That is what America is all about," Locke said.
Locke, however, does not speak Mandarin, prompting a discussion of the merits of learning Chinese to serve in the most important diplomatic role in Asia. Should this be criteria for future ambassadors? The ambassadors agreed that it was a "major asset" to be fluent in Mandarin, but disagreed on whether it was an essential skill. It is more important to understand Chinese culture, Locke said, and in some cases language could be an impediment.