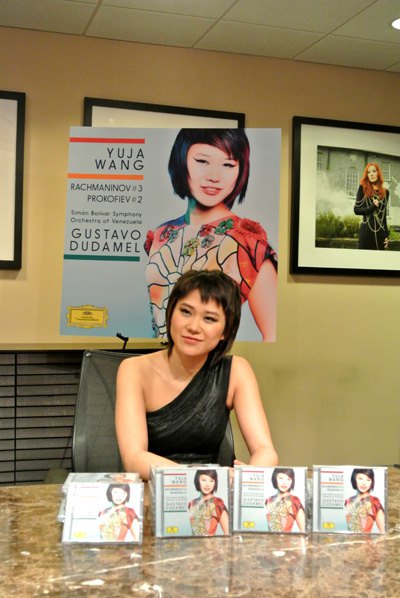 Yuja Wang meets the press on March 19 in New York City (DG)
"Chinese culture has been a positive influence on my life and work," Chinese-born pianist Yuja Wang told the press on March 19 at the office of Universal Music Classics (UMC) in New York.
A new album, the 27-year-old pianist's first chamber music recording, is scheduled for release in April, UMC announced.
During an informal session, Wang discussed the influence of Chinese culture on her work and other topics such as her parents, childhood hobbies, and recent collaborations.
Petite, with a lively sense of humor, and hailed as one of the most important classical artists of her generation, Wang is known for her electrifying live performances and she tours the world playing for sold out crowds. She performed at Lincoln Center on March 17, part of her North American tour with the Los Angeles Philharmonic Orchestra.
Born in Beijing to a dancer and a percussionist, she began playing piano at six years old and left China at 14 to study music in Canada and the United States. Wang said many of her cultural habits may be American, but she feels fortunate to have learned the Chinese language in her youth. She cited influences such as the four-character idioms known as chengyu used in Chinese, many of which are allusions to literary works and legends, as well as the Dao De Jing, also known as the Tao Te Ching, a Classical Chinese work that has inspired many other greats and whose contents form some of the foundations of Taoism.
"Churchill and Einstein said, 'Oh, 5,000 years ago Chinese people said the same thing in different words,'" said Wang, speaking in Mandarin. "There's a kind of vast, expansive, and 'still' feeling in Chinese poetry that subconsciously is a great help to me in my music. It's not too competitive." Wang said that while she performs most often in the United States and Europe and rarely returns to China, she has been moving increasingly towards Asia, and cited Hong Kong as city that inspires her with the way it brings cultures together.
Wang believes Chinese parents ought to encourage their children to become well-rounded people. Her mother encouraged her to try activities like dance, drawing, and calligraphy when she was young, and Wang chose piano on her own, joking that she lacked athletic ability and preferred sitting to dance.
When Wang's teacher urged her parents to send her to a conservatory in Beijing, as musicians they had misgivings about the difficulty of that lifestyle, but decided to "go with the flow." This year, for the first time since she was 14, Wang was able to celebrate the Lunar New Year with her parents in New York, where she lives when not on the road.
"Someone asked me recently, 'Where are you at home?'" said Wang, "and I answered: 'My living room is in New York, my studio is in Paris, and I record in Germany,' but then, it isn't really as much about the place as it is about the people."
Wang signed copies of her fifth recording with Deutsche Grammophon: Piano Concertos/Rachmaninov, Prokofiev featuring recordings of Rachmaninov's Piano Concerto No. 3 op. 30 and Prokofiev's Concerto No. 2, Op. 16 with Gustavo Dudamel and the Simón Bolívar Symphony Orchestra of Venezuela, released January 2014.
(Reporting from New York City)