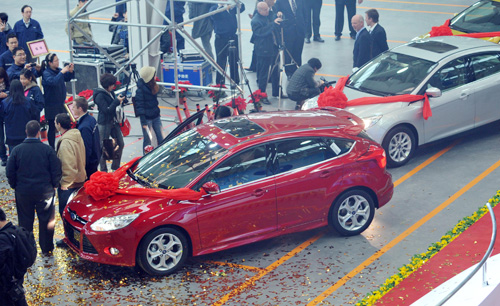 FRESHLY ASSEMBLED: The first batch of Ford Focus cars roll off the assembly line at Changan Ford Mazda Automobile Co. Ltd. in southwest China's Chongqing Municipality on February 24 (XINHUA)
On July 5, U.S. President Obama filed a complaint to the World Trade Organization (WTO) against tariffs China enacted last year on luxury autos. It's hard to take seriously Obama's recent move, which amounts to little more than political grand-standing, especially when U.S. auto companies are exporting relatively little to China, compared to the mountains of profits they yield from manufacturing and distribution on the Chinese mainland. And while the general public might applaud a seemingly laudable step to preserve jobs, the truth puts Obama in the awkward position of hoping no one notices that he chose a battle not worth fighting.
Steve Craven, a former 31-year trade negotiator for the U.S. Department of Commerce, and now an independent trade specialist, published on his blog, Business Beyond the Reef, a July 6 article, Stupid Is As Stupid Does, of the shortsightedness of Obama's trade skirmishes with China: "No surprise, it all started with stupidity in Washington. In September 2009, the Obama administration stupidly decided to buy some political capital by announcing safeguard measures against imports of Chinese tires. The White House argued that it was saving jobs for Americans, though no such jobs were discovered."
Craven concludes that, "…Washington filed a case in Geneva this week that asserts, probably rightly, that the Chinese anti-dumping and countervailing duty actions are not proper. In the meantime, all the auto companies that can are happily selling in China from manufacturing plants outside of the United States. No matter how the case comes out in Geneva, the end result of all this childishness is that tire-making jobs have been lost in China, auto-making jobs have been lost in the United States, and consumers on both sides of the Pacific have been kicked in the teeth. Stupid. But Obama can claim he is tough on China."
There are other international business experts who believe Obama did exactly what he should have done. Dr. Ilan Alon, a consulting editor of the Financial Times Press and a visiting scholar at Harvard University said, "The Chinese have kept their currency too low for too long, thereby giving advantage to their manufacturers and export economy. As a member of the WTO, China has to abide by international rules of trade. America has the right and, in fact, the responsibility to its citizens and companies to pursue perceived violations of WTO rules."
Bill Russo, who is currently a senior advisor at Booz & Company, and formerly the vice president of Chrysler Northeast Asia at Chrysler LLC. said, "The latest round in the escalating trade wars between the U.S. and China has taken an unambiguously protectionist turn. By targeting SUVs [sport utility vehicles] made in the United States, there is hardly a basis for calling this a measure that is designed to correct any unfair advantage held by the American auto industry. The companies impacted are Chrysler and to a lesser extent General Motors (GM), and their imported products are not directly competing with Chinese automakers directly, as they occupy far higher price positions even before the tariff. The Obama administration is perfectly justified in challenging the WTO compliance of this measure, as it is clearly being levied as a punitive measure."
While trade frictions between China and the U.S. are nothing new, the mercury is rising as the 2012 U.S. presidential election nears. Obama's Republican contender, Mitt Romney, is going for the jugular on all issues relating to trade and business. In a capitalistic nation like the U.S. it has historically been the engine of enterprise that has shaped the country, not the attainment of lofty social welfare ideals. However, Obama's inaugural campaign, particularly sympathetic to what Republicans still today label a socialistic agenda, captured the hearts and minds of Americans who believed the country was better than aspirations of war, cold and calculating commerce, and a lack of human rights and health care options for many in need.
Now with the U.S. limping away from the global recession with over 8 percent unemployment, a broken health care system, divided leadership, and heavy regulations on business, Obama feels compelled to ramp up the bullying efforts on China. Americans love a good fight, but stepping up trade wars with China has displaced hostility toward a nation struggling to mend discord back home.
Moreover, President Obama might have had a stage to stand on if he were actually advocating on behalf of U.S. auto companies, but amidst the political saber rattling, the American companies who should be cheering the president on have remained silent throughout the ordeal. Why would they speak up? According to a July 5 article in the Washington Post, U.S. Files Complaint Against China Over Auto Tariffs, by David Nakamura and Howard Schneider, "Ford exports no cars to China; Chrysler and General Motors ship a few thousand vehicles each from U.S. factories -- compared, for example, with the 2.5 million vehicles that GM manufactured and sold from its China-based plants last year."
While Obama's rush on China's so-called unfair trade practices, America's own tariffs on Chinese tires and solar panels not withstanding, was clearly not done in favor of U.S. automakers, it also could not have been for U.S. auto workers either. How many U.S. auto workers would be employed, if not for large scale U.S. auto manufacturing off-shoring in China?
If Obama were earnest about lifting American spirits, he would not be chasing down China over minor infractions, and needlessly chafing an already brittle relationship, but lobbying companies back home in a genuine effort to re-invest in America, a country which has off-shored nearly everything except its overarching regulations on domestic business affairs.
The author is an international business consultant, based out of Asheville NC, the U.S.