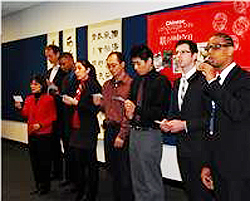 Students from the UN Chinese Language Program recite the historical Chinese poem The Qingping Tone at a celebration for UN Chinese Language Day at UN headquarters in New York on November 12 (CHEN WEN)
The United Nations celebrated its first-ever Chinese Language Day on November 12 in its headquarters in New York as part of the "Language Days at the UN" initiative. The initiative is intended to promote multilingualism, cultural diversity and the equal use of the six official languages of the UN, which include English, French, Russian, Spanish, Arabic and Chinese.
"The Chinese language was designated as one of the official languages of the United Nations from its very beginning. It is one of the most ancient and most widely spoken languages in the world," said Kiyotaka Akasaka, UN Under-Secretary-General for Public Information and Communications.
Akasaka said at the ceremony that he was delighted to draw attention to the beauty, history and cultural importance of the Chinese language. He also showed his appreciation of Chinese poetry by presenting his own Chinese calligraphy.
Li Baodong, a representative from the Permanent Mission of the People's Republic of China to the UN, said that the celebration of Chinese Language Day was of great significance. Li addressed some 100 attendees at the event, most of whom where UN staff and diplomats.
"We sincerely hope that the celebration will further expand the influence of Chinese as an UN official language and offer a window of opportunity for more people to learn about Chinese civilization and culture," Li said.
During the celebration ceremony, students from the UN Chinese Language Program recited The Qingping Tone, a historical Chinese poem by renowned Chinese poet Li Bai. The UN Singers musical group also performed, with a rendition of the well-known Chinese song Jasmine Flower. The group recently returned from a trip to the Shanghai World Expo, where they performed at the UN Pavilion.
The China National Office of the Chinese Language Council International donated books at the event in support of the initiative. Representatives from Chinese publishing companies also presented a donation of books and other items to both the Permanent Mission and the UN Staff Recreational Council Chinese Book Club.
The UN Language Days initiative was launched by the UN Department of Public Information in February of this year. Chinese Language Day will fall on April 20 next year.
(Reporting from New York)