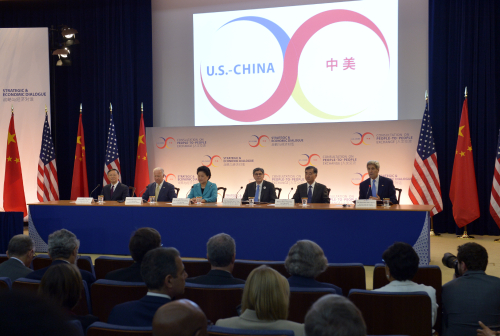 Senior officials from China and the United States attend the Seventh China-U.S. Strategic and Economic Dialogue and the Sixth High-Level Consultation on People-to-People Exchange in Washington, D.C. on June 24 (XINHUA)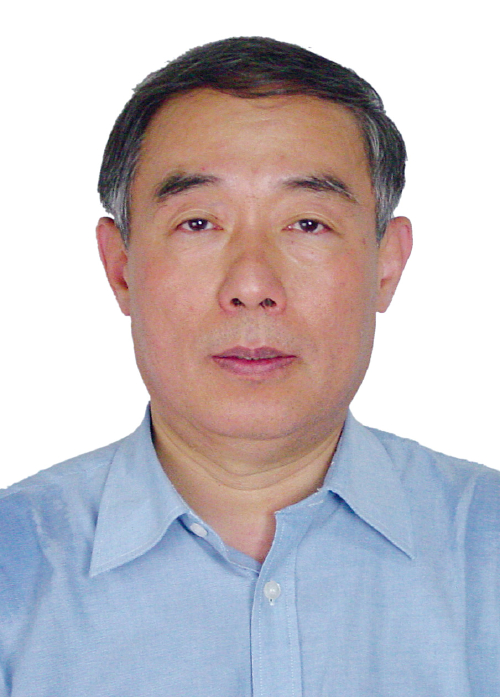 Over the past 40 years or so, Sino-American economic and trade ties have remained one of the most dynamic, sustainable and stable aspects of overall bilateral relations.
Chinese President Xi Jinping has said, "Economic and trade ties are a cornerstone of China-America relations." As the world trade structure undergoes seismic changes, China-U.S. economic and trade relations face common challenges. Both sides should make concerted efforts to cope with major issues related to their long-term interests and global development.
A strategic position
For a long time, Sino-U.S. economic and trade relations have been subject to and sometimes adversely affected by bilateral relations in the political and security spheres. However, bilateral economic ties are currently experiencing a period characterized by the most vigorous and stable growth since the two countries first restored exchanges in the 1970s, with some arguing that it has been the most important element of Sino-American relations.
Trade volume between the two countries in the late 1970s lingered around $2 billion every year, but surged to $555.1 billion in 2014, representing the culmination of an average annual growth rate of 16 percent. Even during difficult patches in their relations, bilateral trade growth had never stalled. Today, the United States has become China's largest export market. From a U.S. export perspective, China is the country's second largest market, lagging behind only Canada.
Two-way investment has exceeded $120 billion in total. Almost all American enterprises on the Fortune Global 500 list have established subsidiaries or joint ventures in China, and they have brought a significant amount of wealth back to the United States in the last two decades. Many outstanding Chinese enterprises eyeing global expansion also prefer to invest in the U.S. market.
Drawing on the experience of the United States, China has taken measures to reform its renminbi exchange rate system, advance market-oriented finance, and promote trade balance and structural adjustment. Sino-U.S.
cooperation in energy has helped scores of Chinese enterprises to introduce high-efficiency clean energy projects from the United States. In terms of the tourist industry, China provides the largest number of visitors to the United States annually.
Through cooperation with the United States, China has gained the capital, technologies and management methods necessary for its modernization and industrialization drives. China has returned the favor to the United States by providing stable and long-term returns on U.S. investment as well as cheap but high-quality consumer goods, which has helped keep the U.S. inflation at a low rate for a long period of time. The two sides have formed ties that are complementary, mutually beneficial and interdependent.
Sino-U.S. cooperation on economy and trade has not always run smoothly as evidenced by frequent economic sanctions and trade retaliations. But the two sides have in the end always managed to find appropriate solutions and regained balance. Over the past 40 years, the United States has remained a world superpower in spite of the devastating financial crisis in 2008. China has meanwhile become the world's second largest economy and has lifted tens of millions of people out of poverty.
The significance of China-U.S. economic and trade cooperation is not limited exclusively to the two countries. Their political reconciliation achieved in the late 1970s has laid a solid foundation for world peace and security.
Common challenges
Both China and the United States face new challenges. With China rapidly catching up to be the world's second largest economy, its relations with the United States are no longer like what they used to be three decades ago. The economic and technological gap between the two countries is narrowing. In the past, American companies swarmed the Chinese market to avail themselves of the unlimited business opportunities and low labor costs and abundant natural resources. Today, Chinese companies are beginning to seek development opportunities in the U.S. market. In the past, the United States was the teacher with China as the avid student. Now the United States has found that China now posits a worthy competitor which challenges its dominant positions in many areas. China has also found that the United States has consequently become distinctly frosty toward it as the middle kingdom faces increasing frictions, restriction and containment from its North American counterpart.
So, under the new circumstances of economic globalization, is there a solid foundation for the two countries to carry out economic cooperation? The answer is yes. The common challenges they face could serve as opportunities for their future cooperation.
The first is to create a new set of rules for world trade. The United States has lost its appetite for the Doha round negotiations that have produced few tangible achievements. It has initiated talks for the Trans -Pacific Partnership Agreement (TPP), the Transatlantic Trade and Investment Partnership and the Trade in Services Agreement. Though China has participated in talks for the Regional Comprehensive Economic Partnership (RCEP) and some other multilateral discussions, the country has not been invited to join U.S.-led free trade talks. Without China's participation, even if a U.S.-led free trade framework were to be made a reality, such an agreement's level of inclusiveness and market scale with respect to new free trade rules could not possibly be satisfactory, representing a loss for both China and the United States. In addition, it will most definitely hamper world economic integration and progress in free trade.
The second challenge is to blaze a new trail for development. As an emerging country in the 21st century, China cannot opt to take the old path followed by rising Western powers several centuries ago. It must instead find a new path to development. In 2013, Chinese President Xi proposed the Silk Road Economic Belt and the 21st-Century Maritime Silk Road initiatives, aiming to enhance connectivity and promote cooperation and development on the Eurasian Continent. The proposal has been welcomed by many countries and resonated among them. Nevertheless, the United States remains skeptical about the China-proposed initiatives. The Cold War mentality still prevails in the United States and across the international community. How to eliminate ideological bias in the process of building a community of common destiny for an emerging country like China and an established power like the United States is a challenge for both sides.
The third is to take responsibility as major countries in global governance terms. Currently, the human race is faced with many serious problems including environmental pollution, unbalanced development, trade protectionism and terror threats. Meanwhile, the speedy development of information technology has caused great economic and social changes to which many countries have yet to adapt to. As the world's two largest economies, China and the United States need to fulfill their duties in global governance and engage in close cooperation.
In the face of common challenges, differences of interests will not take center stage. A zero-sum approach is not the way to resolve common issues. Put simply, differences in political system and ideology should not disturb economic and trade ties between the two countries. Moreover, these differences can be mitigated through economic and trade cooperation.
Major agendas
So far, the world economy has not moved out of the shadow of the financial crisis. Market demand in most economies has not yet recovered. A new round of technological breakthroughs and industrial progress has not yet arrived. Both China and the United States are restructuring their economies. There are a number of urgent and significant tasks existent in Sino-U.S. economic and trade cooperation.
Both sides should promote regional economic integration and free trade within a higher-level framework. By enhancing cooperation and coordination, the two sides should make sure ongoing multilateral free trade agreements such as the TPP and RCEP are inclusive and not exclusive to some countries. If the two countries can reach consensus on building a high-level free trade framework that balances the interests of all parties, it would be an agreement as significant as the foundation of World Trade Organization (WTO) and would appeal to a large number of trade partners.
China and the United States should join forces in improving infrastructure conditions and building connectivity globally. In the future, there will be a need to build an integrated market that encompasses the entire global population. In developed countries, infrastructure could become outdated and incapable of meeting the requirements of globalization while developing countries are badly in need of building up their own infrastructure systems. China and the United States could make use of their respective advantages to facilitate global connectivity and drive global economic recovery.
The two countries should advance the development of the IT-based economy and transnational e-business. Remolding the economy with cutting-edge information technology will spur the vitality of traditional industries and provide new growth opportunities. As an emerging area of commerce, transnational e-business will facilitate adjustment of trade structure in terms of investment channels, trade patterns, regulation and interests. There is necessity for them to cooperate in establishing international trade norms with regard to this area.
Finally, both sides should seek a solution to tackle the environmental challenge. Greenhouse gas emissions have long been a threat to the development and perhaps even the very existence of the entire human race. Establishing stricter emission controls is an inevitable trend across all countries. So far, progress in climate change negotiations has been frustrated owing to large differences between participants. China and the United States are the two highest carbon-emitting countries in the world. They must accept their respective responsibilities and take the lead in doing their part to reduce global emissions. Based on the joint declaration on climate change announced at the 2014 APEC meeting in Beijing, both China and the United States should carry out practical steps toward reaching a global climate change agreement as soon as possible.
The author is a researcher at the Chinese Academy of International Trade and Economic Cooperation under the Ministry of Commerce of China
Copyedited by Eric Daly