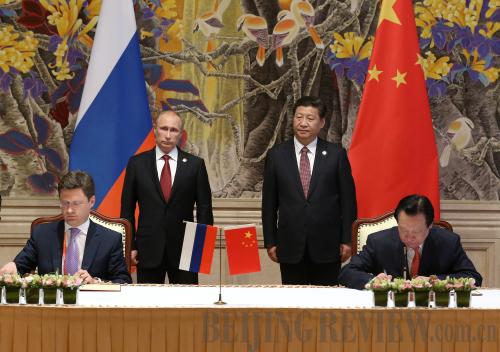 GAS CONTRACT: Chinese President Xi Jinping witnesses the signing of a contract to import natural gas from Russia's Siberia along with visiting Russian President Vladimir Putin in Shanghai on May 21 (PANG XINGLEI)
Chinese and Russian leaders have proclaimed to the world that their relationship is at a high point. The two major neighboring powers have now illustrated this claim by expanding ties in the fields of energy and security.
Chinese President Xi Jinping and his Russian counterpart Vladimir Putin jointly released a statement on May 20 during the latter's first state visit to China since China's leadership transition in March 2013. Both showed eagerness to bring bilateral relations into a new phase wherein the two countries' economic and security cooperation will become as close as their political relationship.
Pipeline partners
In the joint statement, the two sides pledged to promote cooperation not only in a bilateral way, but also in multiple regional platforms, creating a detailed blueprint for their practical cooperation. China and Russia also signed dozens of cooperative agreements during Putin's two-day state visit during the Fourth Summit of the Conference on Interaction and Confidence Building Measures in Asia (CICA) in Shanghai.
"China is our reliable friend. To expand cooperation with China is undoubtedly Russia's diplomatic priority," Putin said to the Chinese press on May 20 before attending the CICA Summit. The Russian president said he believed that it was of crucial significance for the two countries to strengthen mutually beneficial economic and trade relations and boost mutual investment, claiming it is the way forward against the backdrop of global economic turbulence.
In the joint statement, they set a target of increasing their trade volume to $100 billion by 2015 and to $200 billion by 2020. China is currently Russia's largest trading partner, with the trade volume between the two countries nearing $90 billion in 2013. Moreover, the two sides are on their way to implementing 40 major projects worth $20 billion.
As a major step of expanding economic cooperation, China and Russia inked a long-awaited natural gas deal in Shanghai on May 21, finalizing a negotiation process that has lasted over two decades. Xi and Putin witnessed the signing of two related documents—China and Russia Purchase and Sales Contract on East Route Gas Project and a memorandum.
According to the contract signed by the China National Petroleum Corp. (CNPC) and Russia's Gazprom, the east route pipeline will provide China with 38 billion cubic meters of natural gas annually from 2018. The gas will come from the Kovyktin and Chayandin gas fields in eastern Siberia and will be piped to China's northeast, the Beijing-Tianjin-Hebei metropolitan area in the north and the Yangtze River Delta in the east. Some media reported that the contract could be worth as much as $456 billion.
Observers considered the gas deal a landmark in the growing ties between the two countries.
"The deal has cemented a very steady basis for bilateral cooperation," said Qu Xing, President of the China Institute of International Studies (CIIS). He noted that it will help China to diversify its energy import sources, while extending Russia's export markets.
Qu believes that the deal is a natural result of the continuing development in Russia's political and economic demands. Politically, Russia needs to find a reliable partner after decades of tussling with Europe and the United States. Economically, it has to find a big and stable market like China to counterbalance sanctions on importing Russian oil and gas from the West due to the Ukrainian crisis, he added.