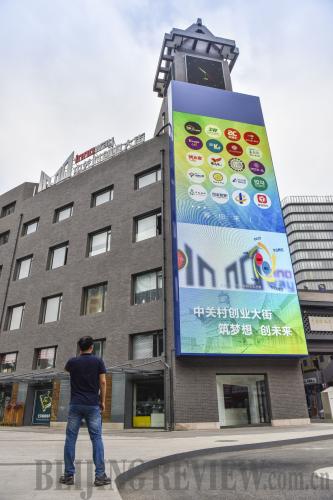 The InnoWay, located in Beijing's Zhongguancun, is home to a dozen or so business incubators that provide help to entrepreneurs from across the nation (WEI YAO)
Near the forever-bustling northwestern section of the Third Ring Road in downtown Beijing is a 3,500-square-meter office space where 50-plus technology start-ups have found their home. Beijing Qingchuang Technology Business Incubator Co. Ltd., owner of the property, offers seed and angel investment to fledging start-ups which inhabit it. When those firms grow bigger, Qingchuang helps them get listed on the New Third Board, China's National Equities Exchange and Quotation system that allows small and medium-sized companies to transfer shares and raise funds.
According to Ding Huamin, President of Qingchuang, his criteria for selecting a start-up to invest in include a passionate team, great teamwork and a promising project with tremendous market potential.
The most impressive team, as Ding recalls, is made up of graduates from Beijing Forestry University, all of whom were in their 20s. Those young people have developed a smartphone app called Xiaolianbang (literally means "union of universities"), which helps students on campus to find part-time jobs, trade used goods, find places to travel and eat, and seek short-term financing.
"They are young, active, full of innovative ideas, and most importantly, are very capable of implementing those ideas," Ding told Beijing Review. "Over the past year, I have gotten the sense that the number of new businesses has increased rapidly. Many start-ups moved to Beijing in search of more resources."
Such business incubators have been established in great numbers in big cities such as Beijing and Shanghai to serve the fast-increasing business start-ups.
Entrepreneurship and innovation have become buzzwords in China over the past few years. According to data from the Ministry of Science and Technology, the number of hi-tech business incubators exceeded 1,600 in 2014, offering a hand to more than 80,000 hi-tech start-ups that employ 1.75 million people. The number of national hi-tech industrial development zones amounts to 115, with over 500,000 businesses registered in the regions.
China has been making strenuous efforts to give more space to entrepreneurship and ensure that the blood of innovation can filter into the social fabric of the country.
Over the past half year, Premier Li Keqiang has promoted entrepreneurship and innovation at seven executive meetings of the State Council, the country's cabinet. As an avid advocate of the campaign, Li has also visited many inventors and makers this year.
As the latest move, the State Council on June 4 released a string of new supportive measures involving tax breaks, fundraising supports and administrative procedure reforms.
High hopes
Chen Jin, a professor in management at the School of Economics and Management of Tsinghua University, hailed the latest measures released by the State Council.
"Actively promoting mass entrepreneurship and innovation is a must if China wants to shift the growth momentum of its economy from investment to innovation," Chen said.
Bai Ming, a senior researcher with a think tank affiliated to the Ministry of Commerce, said that the new measures will greatly benefit start-ups, as they usually have to grapple with challenges such as insufficient funds and low tolerance to risks.
China proposed the idea of encouraging mass entrepreneurship and innovation becoming a new growth engine amid its economic growth slowdown and restructuring efforts.
The Chinese economy grew 7.4 percent in 2014, the slowest in 24 years. The government lowered its 2015 target for GDP increase to 7 percent, while underscoring that growth should shift to a more consumption-based and innovation-driven pattern.
Amid the slowdown, the service sector—which creates more jobs than the manufacturing sector—accounted for a larger proportion of the GDP in 2014, one of the positive signs that China's restructuring efforts have to a certain extent paid off.
According to data from the National Bureau of Statistics, the added value of the service industry accounted for 48.2 percent of the total GDP in 2014, 5.6 percentage points higher than that of the manufacturing industry. Therefore, despite the slowest whole-year GDP growth in more than two decades, a total of 13.22 million urban jobs were created last year, far exceeding the preset target of 10 million, according to the Ministry of Human Resources and Social Security.
"As the Chinese economy develops, departments engaged in manufacturing will gradually shrink and demand for service products will increase significantly. This has created a favorable environment for business start-ups," said Zhang Chewei, Director of the Institute of Population and Labor Economics under the Chinese Academy of Social Sciences.
"More and more people are flocking to set up their own businesses, especially university graduates. Against this backdrop, it's essential for the government to create an friendlier environment for fledgling firms," Zhang said.
Challenges
Liu Peilin, a senior researcher with the Development Research Center of the State Council, said that the environment for entrepreneurship and innovation in China has significantly improved.
He calls for top-down approach to further improvement and suggests establishing the facilitation of entrepreneurship as a basic state policy in the 13th Five-Year Plan (2016-20).
"Compared to other national strategies, this strategy requires less fiscal input from the government," Liu said. "The most important thing would be the government letting go of control. Moreover, it has no side effects under any eventualities."
Chen, the Tsinghua University professor, said that China should focus on evolving from imitative innovation to original innovation in the upcoming five years.
"This requires lots of pioneering efforts and the participation of creative-minded people from all fields in society. More importantly, small and medium-sized enterprises (SMEs) should take the lead in the process, instead of only relying on research and development personnel, as China used to," Chen said.
According to Chen, when talking about innovation-driven growth, the Chinese people used to believe that big firms should play a larger role and SMEs should follow suit. "That's wrong," he noted. "The right way dictates that SMEs make initial innovations and that ensuing large-scale innovation projects are carried out by big companies, research institutions and universities."
According to Cao Jianlin, Vice Minister of Science and Technology, both central authorities and local governments have issued over 2,000 policies aimed at promoting entrepreneurship and innovation.
Cao added that a culture respectful of entrepreneurs and tolerant of their failures is the key to the promotion of entrepreneurship in China. "Even if they fail, they should be respected, and their future ideas should be supported too," he said. "On the other hand, entrepreneurs should be tougher and never surrender to failure."
Qingchuang's Ding said that various government departments should coordinate their efforts when offering service to start-ups.
"It would be much more convenient for them if government administrative service centers could offer one-stop service," Ding suggested.
New Supports in Place
- Encouraging local authorities to set up venture capital, issue preferential policies for makers, as well as issue preferential tax policies to investors that fund small and micro businesses, business incubators and innovation activities;
- Encouraging crowdfunding and other financing methods and encouraging businesses with special types of equity structures to file for initial public offerings in the Chinese mainland;
- Canceling thresholds that stand in the way of the free flow of talented people, such as hukou (household registration) and educational background requirements, to create a more convenient environment for entrepreneurs;
- Mobilizing idle factory buildings and logistics facilities to provide lower-cost office space to entrepreneurs;
- Further streamlining administrative procedures and improving government services to support mass entrepreneurship and innovation.
(Source: Statement of the Executive Meeting of the State Council on June 4)
Copyedited by Kylee McIntyre
Comments to zhouxiaoyan@bjreview.com