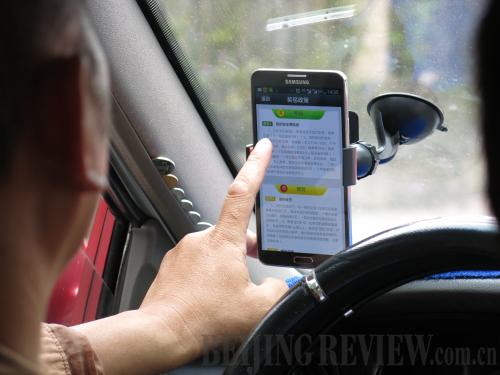 NO SMARTPHONE, NO TAXI: A driver in Shenzhen, south China's Guangdong Province, checks a taxi-calling app on his smartphone on February 18 (CFP)
Han Yonghui is a cabbie in Beijing. After a taxi fare increase in 2013, he makes roughly 5,000 yuan ($823) a month, just about enough to feed his family.
Recently, Han started using cab-hailing mobile software to pick up customers who order taxis via smartphone. Benefiting from an increasingly fierce competition of rewards between two of the most popular apps for this purpose, he can receive up to 2,250 yuan ($370) extra every month by using both of them to collect subsidies.
Two of China's biggest Internet companies—Tencent and Alibaba—are fighting a war within the lucrative mobile payment market by backing rival taxi-hailing apps—Didi Dache and Kuaidi Dache.
In the fourth quarter of 2013, Kuaidi Dache held 46.7 percent of China's taxi-booking app market and Didi Dache, 43.6 percent , according to statistics from the Beijing-based research firm Analysys International.
In early January, the Tencent-backed app Didi Dache launched a campaign under which it will invest 200 million yuan ($33 million) to promote itself. Anyone who books a taxi through Didi Dache and pays the cab fare through the mobile payment platform of WeChat, a mobile messaging app developed by Tencent, will get 10 yuan ($1.6) off the fare. The driver also receives a 10 yuan subsidy for each ride.
Only a few days later, Kuaidi Dache, which has partnered with Alipay, Alibaba's e-payment arm, announced a more generous offer: Users can get a rebate of 10 yuan for every taxi ride they pay for using Alipay Wallet, the mobile app of Alipay. Taxi drivers will get 15 yuan ($2.5) for each trip.
On February 10, Didi Dache reduced its subsidy to passengers from 10 yuan to 5 yuan ($0.8) per order. The sudden reduction of the subsidy has caused great client loss. As a result, the operator of Kuaidi Dache on February 17 resumed the 10-yuan subsidy for passengers. The same day, Kuaidi Dache increased its passenger subsidy to 11 yuan ($1.8), citing its business slogan "forever 1 yuan ($0.16) more than the rival."
As a response, Didi Dache adjusted its subsidy policy, giving passengers random subsidy amounts ranging from 12 to 20 yuan ($2 to 3.3) per order on the morning of February18. At 3:00 p.m. the same day, Kuaidi Dache increased its subsidy to 13 yuan ($2.1).
"Personally I hope this war never ends. It's very good for taxi drivers and passengers," Han told Beijing Review.
Behind the war
So far, the fierce subsidy war in the taxi-booking app industry has depended on massive capital injection.
In April 2013, Didi Dache collected a $15-million investment from Tencent and in May, Kuaidi reportedly received several million dollars from Alibaba.
In January, the operator of Didi Dache received a new round of $100 million in funding. Of that sum, $30 million was from Tencent.
The wrestling match between Tencent and Alibaba seems to be never-ending. The two companies launched similar mobile chatting apps one after another and moved into the mobile gaming industry in quick succession. Right now, the cab-booking service represents a new battlefield in the fight between the two for China's emerging mobile payment market.
The mobile payment market is booming exponentially in China. The total transaction value of the market shot up to 1.3 trillion yuan ($214 billion) last year, up more than 800 percent from 2012, according to Analysys International. This is a can't-miss arena for both Alibaba and Tencent. Therefore, although the heavy investment in taxi-hailing apps may not generate returns in the foreseeable future, the two continue to do so because they are both aiming for a leading position in the market.
A hidden factor in the battle is the players' ambition to establish their territory in mobile payments, said Lu Jingyu, an analyst at iResearch Consulting Group.
"It is about securing as many people as possible who use their mobile payment services," said Lu, adding that mobile payments are a significant factor for any company wishing to rise to the top in the era of mobile Internet.
Alipay currently leads mobile payments with nearly 300 million registered real-name users, including 100 million who accessed services via mobile phones in 2013. Last year, those users made 2.78 billion transactions, with an aggregate turnover of 900 billion yuan ($148 billion), according to data released by Alibaba.